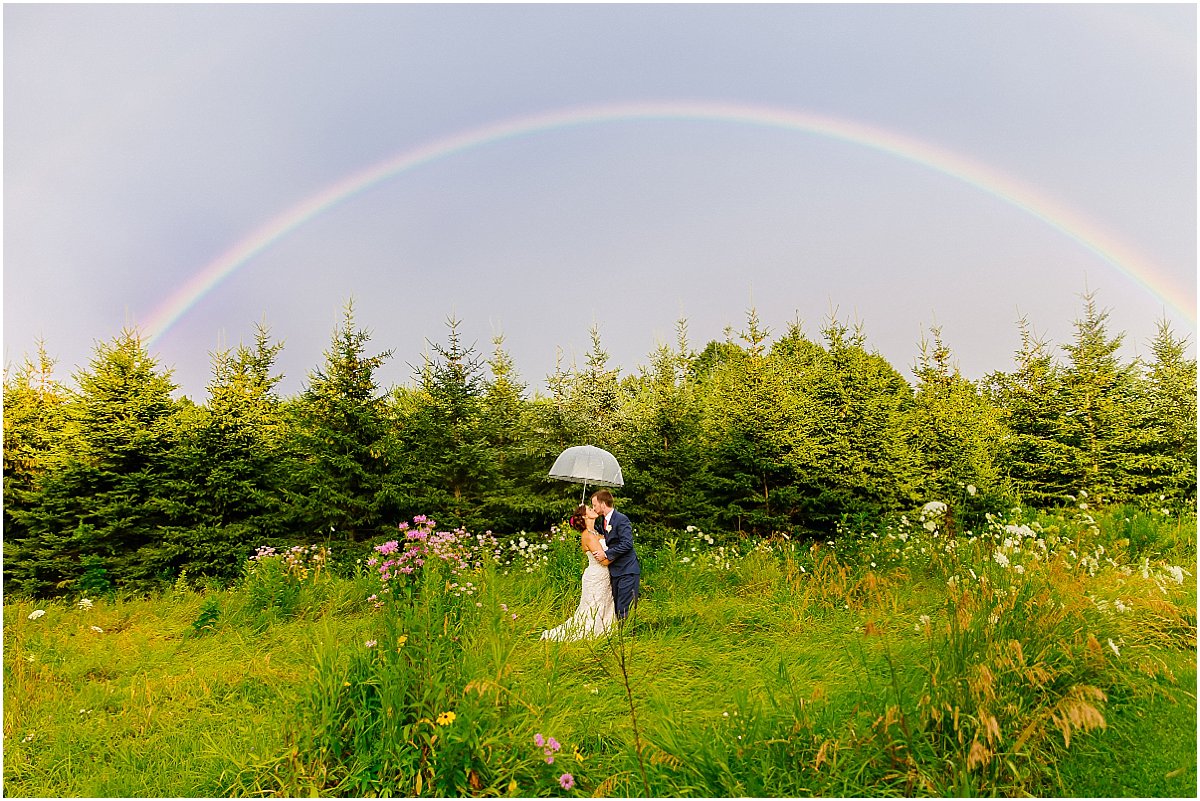 Florida might be the Sunshine State, but anyone that lives here knows that it can go from sunny to monsooning in just a few minutes time. It's part of living in paradise 😉
Knowing that the weather is so unpredictable, having a kick-ass weather back-up plan is just as important as the decor, catering, and even the perfect dress.
Here are some helpful tips to guide you to the best weather back-up plan for your Palm Beach wedding.
1. Talk to Your Venue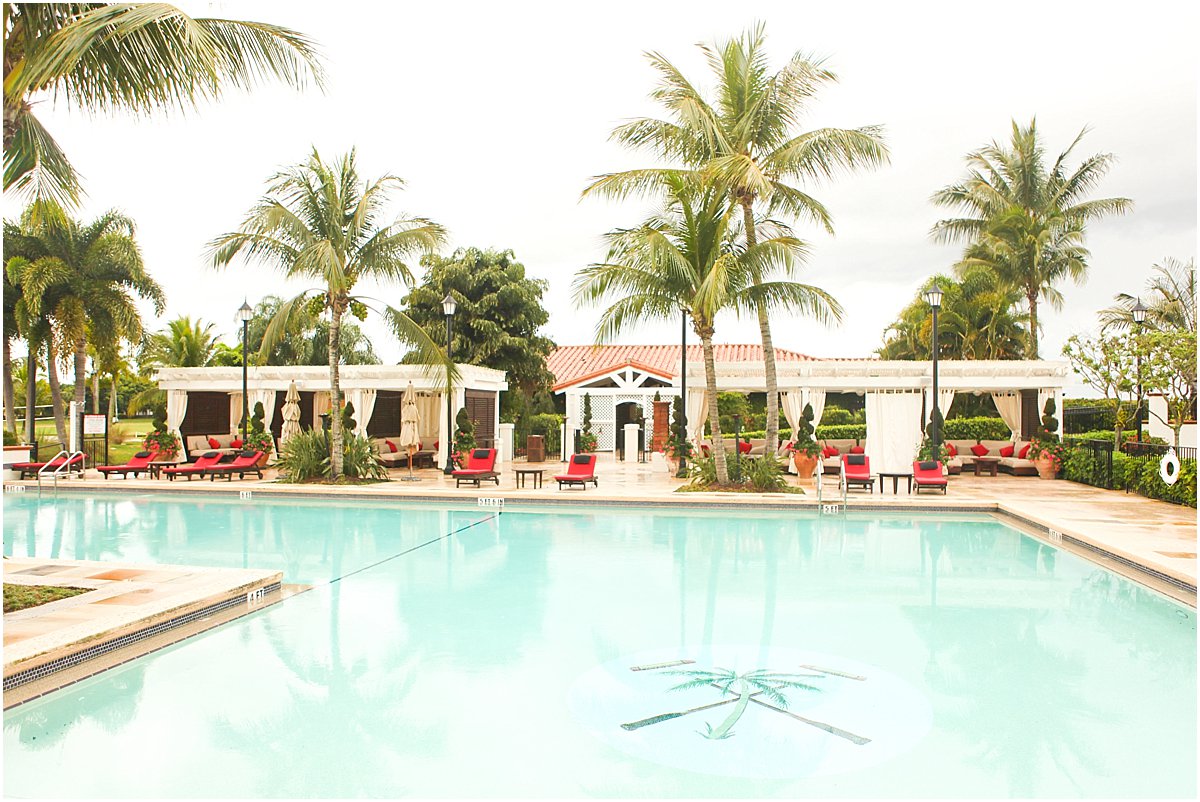 You need to have an upfront conversation with your venue about what happens in the event of inclement weather.
They are the key to making a smooth transition from your original plan to your weather back-up plan. Here's a list of great questions to ask:
What is the back-up space?
Is there an associated cost with the back-up space?
Will the back-up space comfortably hold my guest count?
Will guests be walking in the rain at any point? If so, will umbrellas and staff be available to escort guests to shelter?
Who makes the rain call and when?
The answers to these questions will help solidify the weather back-up plan and leave you feeling at ease for the big day!
2. Consider a Back-Up Tent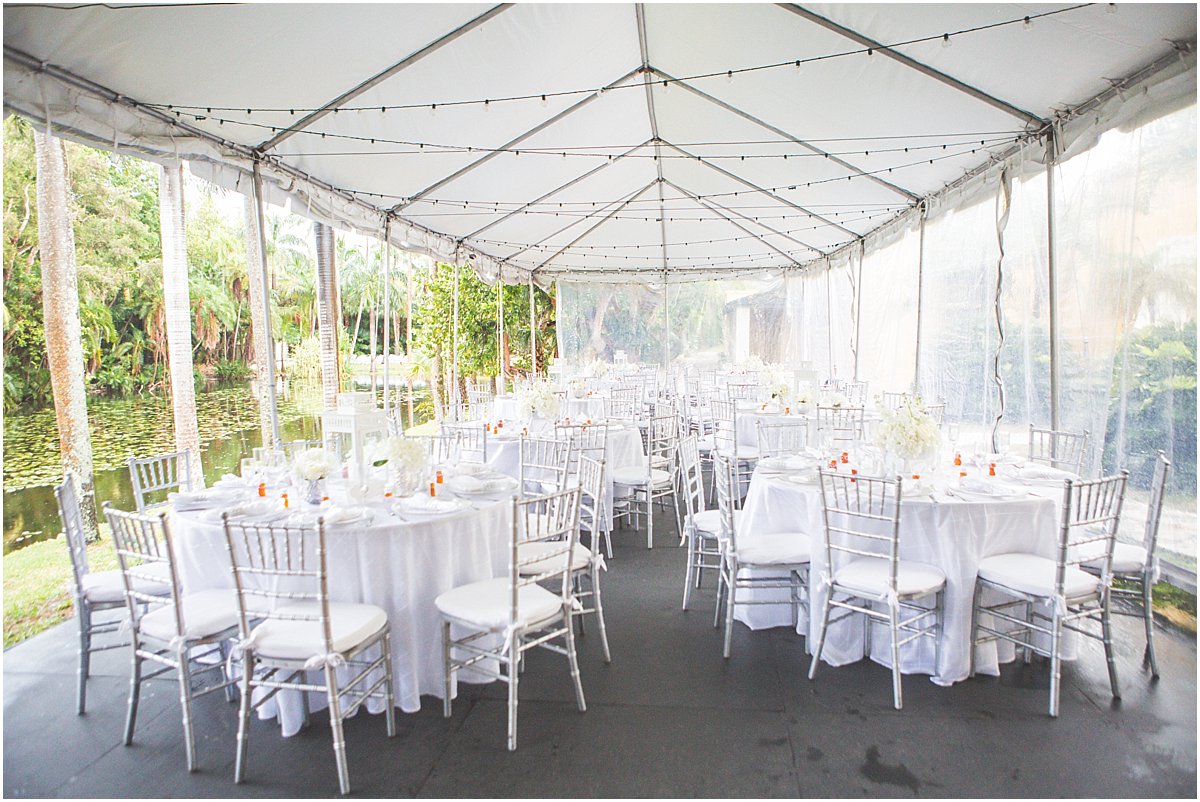 Some venues will be unable to accommodate your guest count indoors for a weather back-up plan. In this case, you will need to talk to your venue about renting a back-up tent.
Most venues have existing relationships with tent rental companies for these exact situations. There are a few things to remember when renting a back-up tent:
Most companies require tent rentals be ordered weeks or months in advance. You'll need to talk to your venue about when the tent need to be rented in order to ensure your back-up plan is a go.
Think of your guests when securing the tent. Make sure you have walls in case of sideways rain, flooring so that guests don't sink into the muddy floor, plenty of lighting that's dimmable for when the party gets started, and a large enough space that guests won't have to leave the tent to find the restroom or bar.
Consider your catering staff in the back-up plan as well. Will they need a catering prep tent or will they have to use the indoor kitchen? How will the servers transport the food to the tent? Talking to your caterer will help with these questions!
If you iron out the logistics of a back-up tent in the planning stages, you'll have no problem with making it happen.
3. Have Fun with Your Photos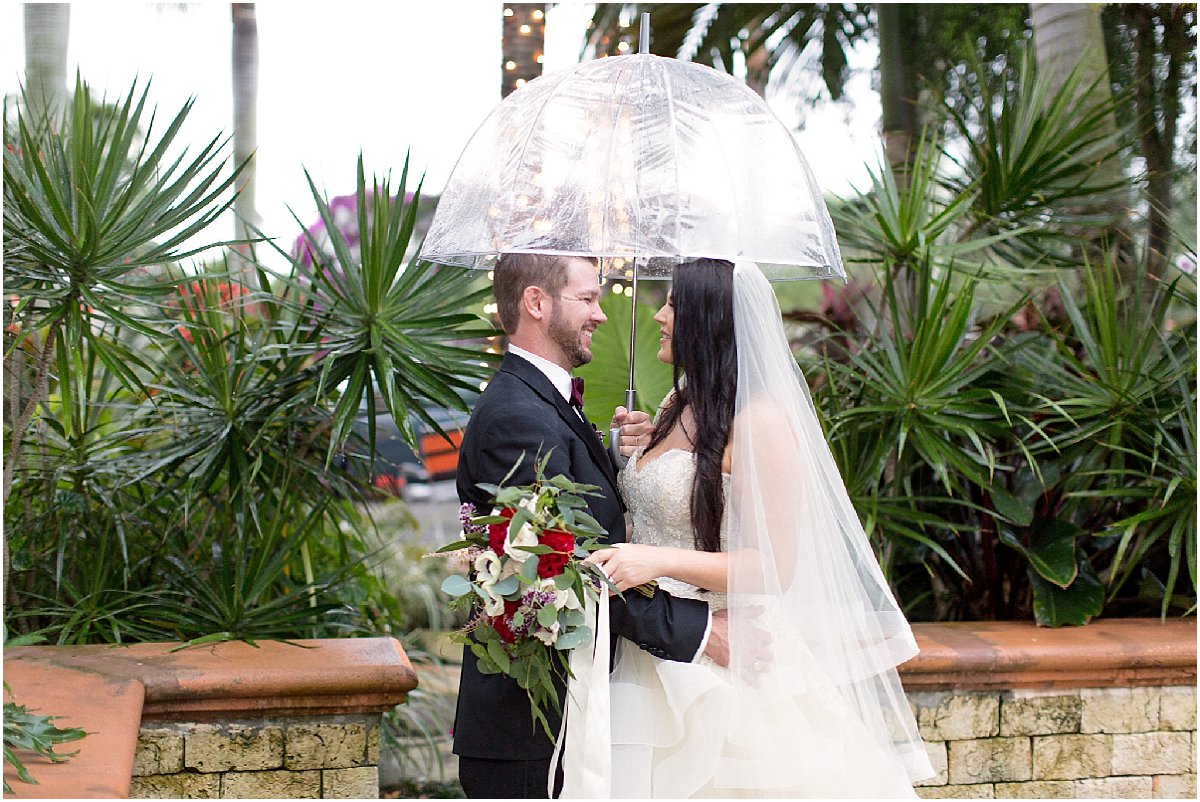 It's important to talk with your photographer about how they handle rainy day weddings. Most of our local Palm Beach wedding photographers have plenty of experience with doing all indoor photos. Here's some things they will recommend:
Head to a big window to have as much natural light as possible.
Get some fun photos with umbrellas. You can get super cute, clear, bubble umbrellas at Target!
Watch for a break in the rain and head out for some portraits then.
Trust your photographer to capture the perfect images of your big day!
4. Wedding Planner to the Rescue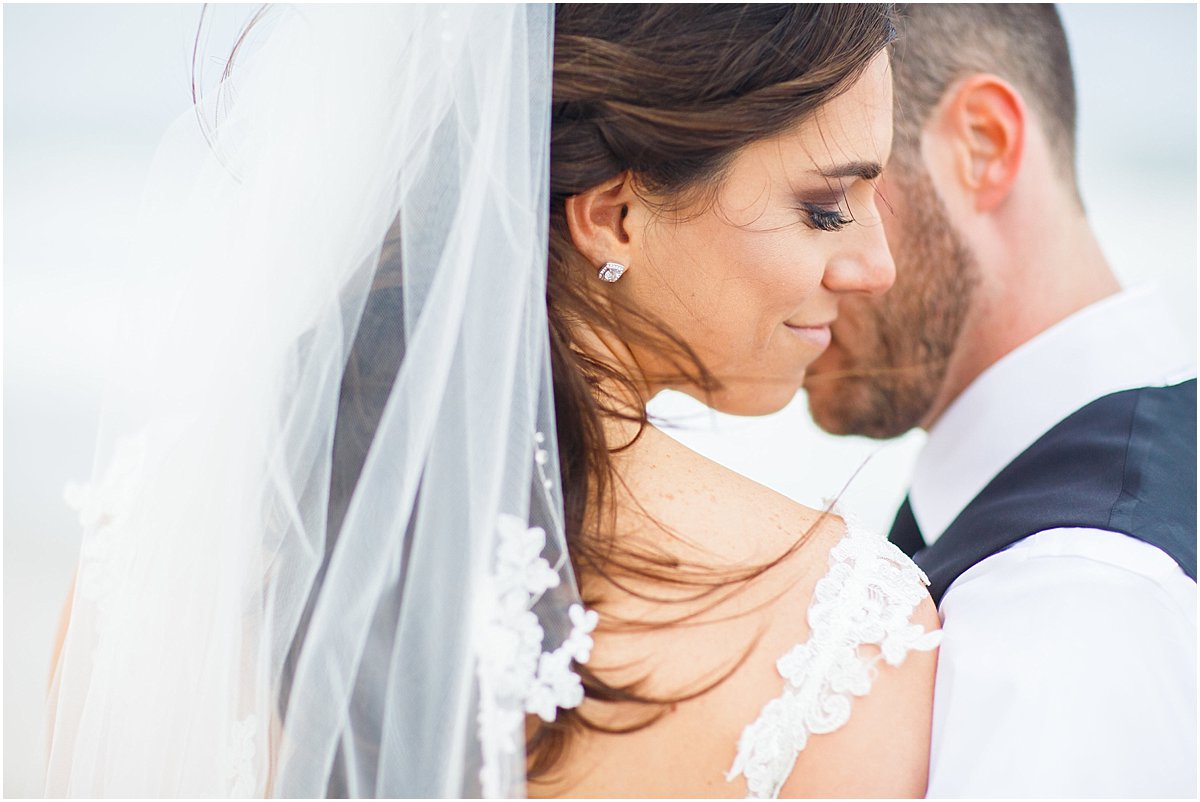 If all these details, what-if's, and logistics are making your head spin, you might want to get a wedding planner. Palm Beach wedding planners are well-equipped to deal with weather back-up plans and working the logistics.
They will take you through each step of the plan to make sure you are comfortable and then will be responsible for enacting the plan if needed. Sooo much stress will be lifted from your shoulders!
5. Buy Event Insurance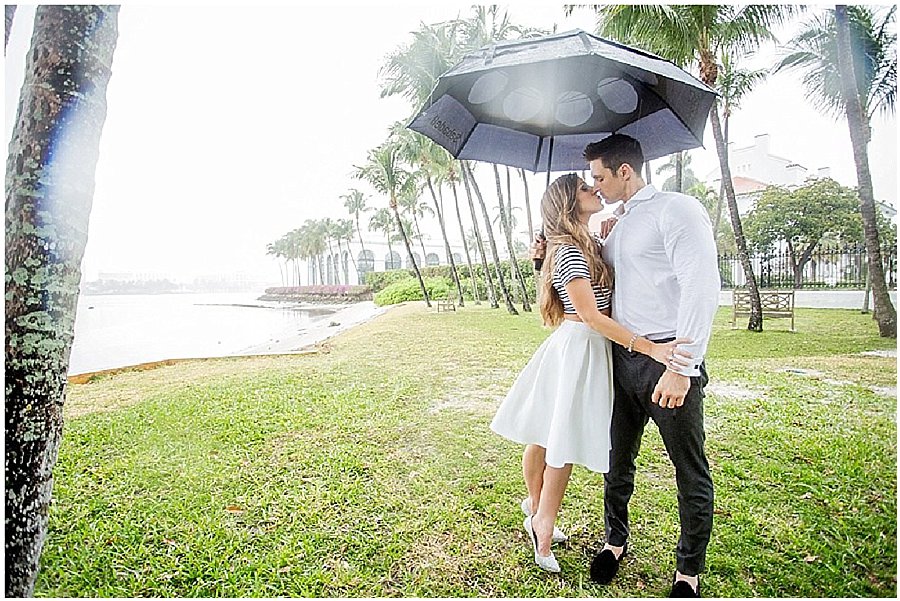 For total peace of mind, consider buying event insurance. It will cover you in the event that a major weather event, like a hurricane, forces you to have to reschedule your wedding.
There are some great companies online that offer this type of coverage. If you are getting married in hurricane season, we can't recommend this enough.
6. Relax and Embrace the Rain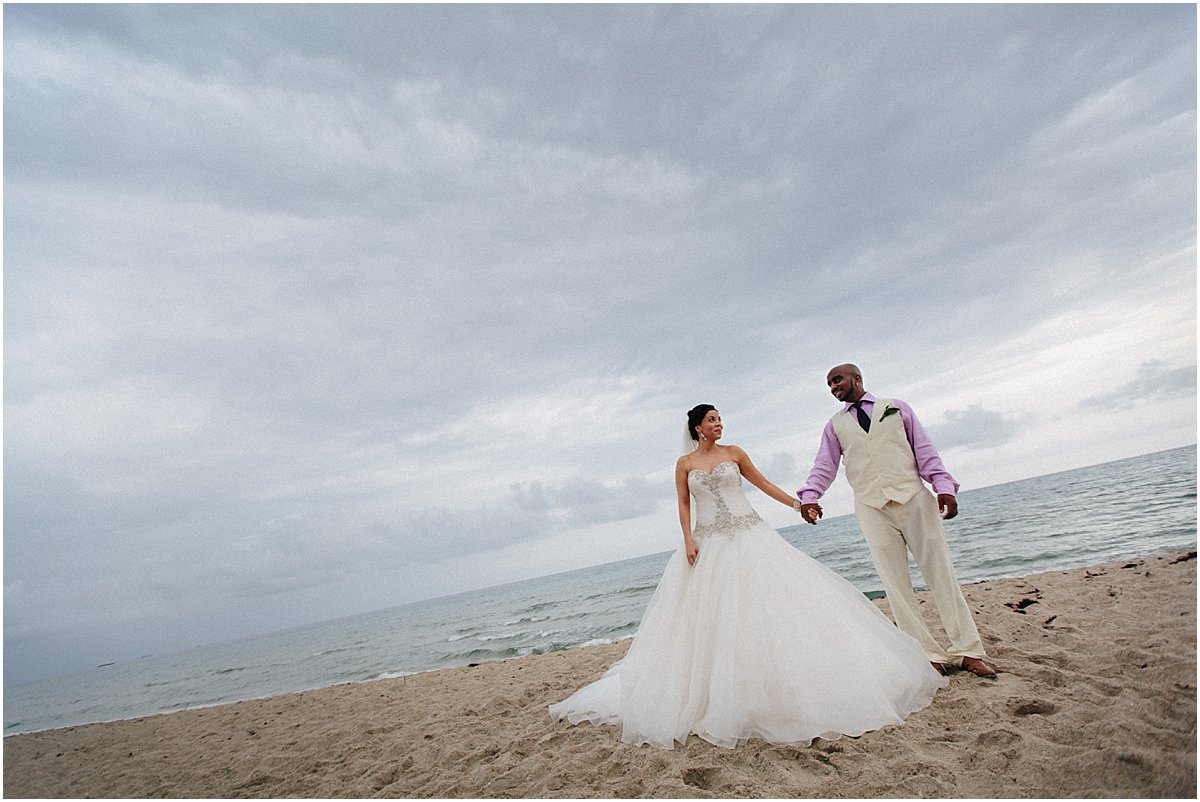 You can't control the weather, so embrace it! Have fun! Your guests will remember how awesome your wedding was regardless of the weather.
With these tips in mind, you'll be bound to create the best weather back-up plan for your Palm Beach wedding.
---
Related Articles