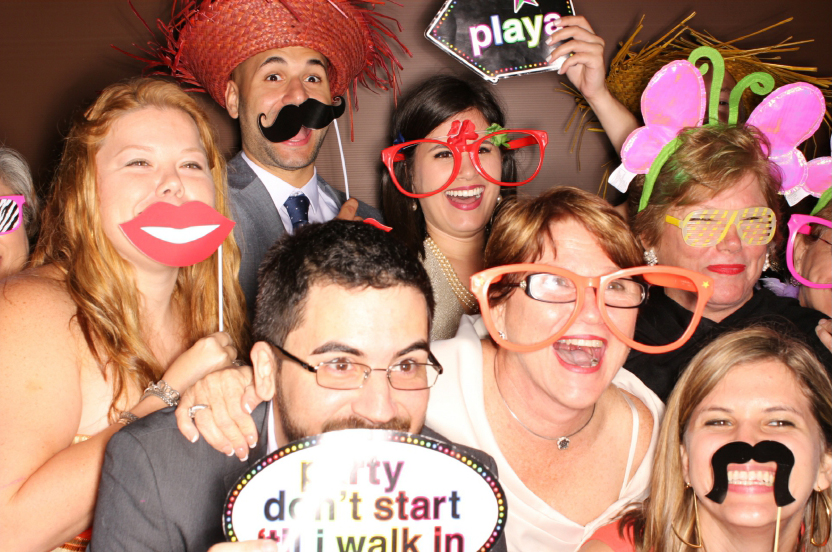 Looking for a great way to entertain guests? Consider renting a Palm Beach photo booth. Use our list to find a quality Palm Beach photo booth to capture the memories.
Photo Booths are a great addition to a wedding reception. They allow guests to have a fun without having to be on the dance floor. The printed photos serve as a favor for the guest while the scrapbook (whether digital or physical) become a wonderful keepsake.
The most important thing to consider when renting a photo booth is the look of the photo booth. There are traditional, box photo booths and there are open air photo booths. Both have their benefits. Traditional photo booths provide privacy for guests to get silly. Open Air photo booths have a smaller footprint and allow for all guests to see the photos being taken. This often leads to guests jumping in and out of photos within the same grouping. Always fun!
Check out the fun photo booths in Palm Beach listed below to find the best vendor for your wedding.
When meeting with the photo booth rental companies, please remember to tell them that you found them on Married in Palm Beach!
Featured Palm Beach Photo Booths:
---
Palm Beach Photo Booth Rental:
Boca Event Photobooth
www.bocaeventphotobooth.com
561-406-9888
Boca PhotoXperience
www.bocaphotoxperience.com
561-212-5054
CapturePod
www.capturepod.com
561-422-4819
Eventz Photobooth
www.eventzphotobooth.com
561-391-9100
Funclick
www.funclickusa.com/photo-booth
305-600-8335
Hitched Photo Lounge
www.hitchedphotolounge.com
Juju Booth
www.jujubooth.com
954-637-3517
Kiki Booth
www.kikibooth.com
844-438-5454
Max Booth
www.maxbooth.com
561-372-6684
Paradise Photo Booth
www.paradise-photobooths.com
949-257-8466
S. FL. Selfies Photo Booth
www.sflselfies.com
954-960-4273
Sensational Images Photo Booth
www.sensationalimages.com/photobooth
724-602-2354
Sideshow Booth
www.sideshowbooth.com
561-544-7267
Stokey's VDub Photo Hub – 1968 VW Bus Photo Booth
www.vdubphotohub.com
561-635-5818
The Reverie Booth
www.freereverie.com
561-212-7363
West Palm Beach Photo Booth
www.westpalmbeachphotobooth.com
561-309-3724
Did we miss a Palm Beach photo booth rental company? Please let us know so we can add them!
---
Find Other Palm Beach Wedding Vendors