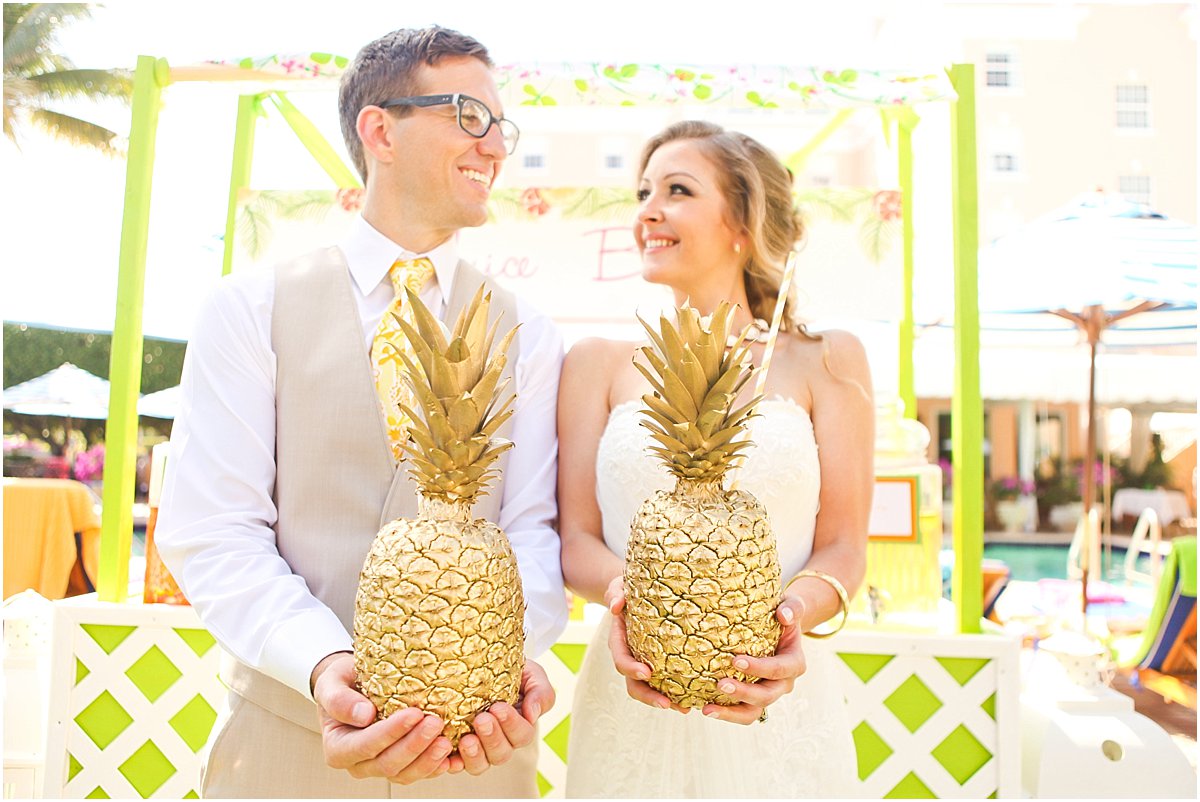 As natives to Palm Beach County, we are lovers of all things Lilly Pulitzer! Her designs capture everything that South Florida living is all about – beach, fun, and sun.
Video by Anchor Weddings
For those that don't know the story, Lilly Pulitzer was the wife of Peter Pulitzer (yep…that Pulitzer!) and they moved to Palm Beach soon after marrying. Once in Palm Beach, she opened a juice stand to sell orange juice made with oranges from her husband's groves.
In order to hide the juice stains, she designed brightly colored patterned clothing. Her customers soon took notice of her clothing and wanted to buy them. From there her brand was born!
Knowing how the history of Lilly Pulitzer is engrained in Palm Beach, it shouldn't shock anyone that we love when couples incorporate Lilly inspired details into their wedding.
Here's some great ideas that you can use for your own Palm Beach wedding!
1. Lilly Pulitzer Clad Wedding Party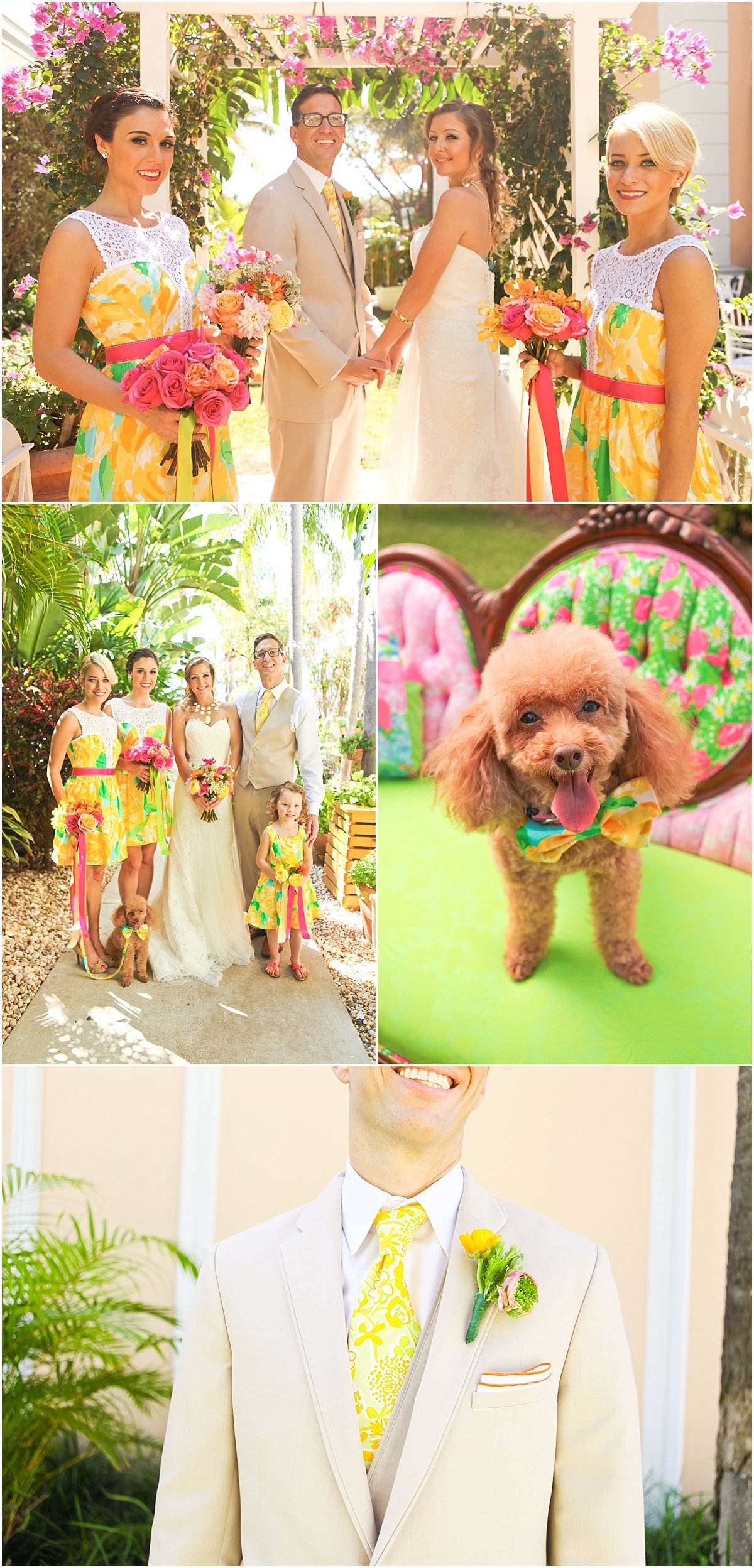 This is the most obvious and fun way to work Lilly into your wedding. It truly will be a bridesmaid's dress your girls will wear again. These dresses from C. Orrico are so fun.
2. Fun Invitation Suite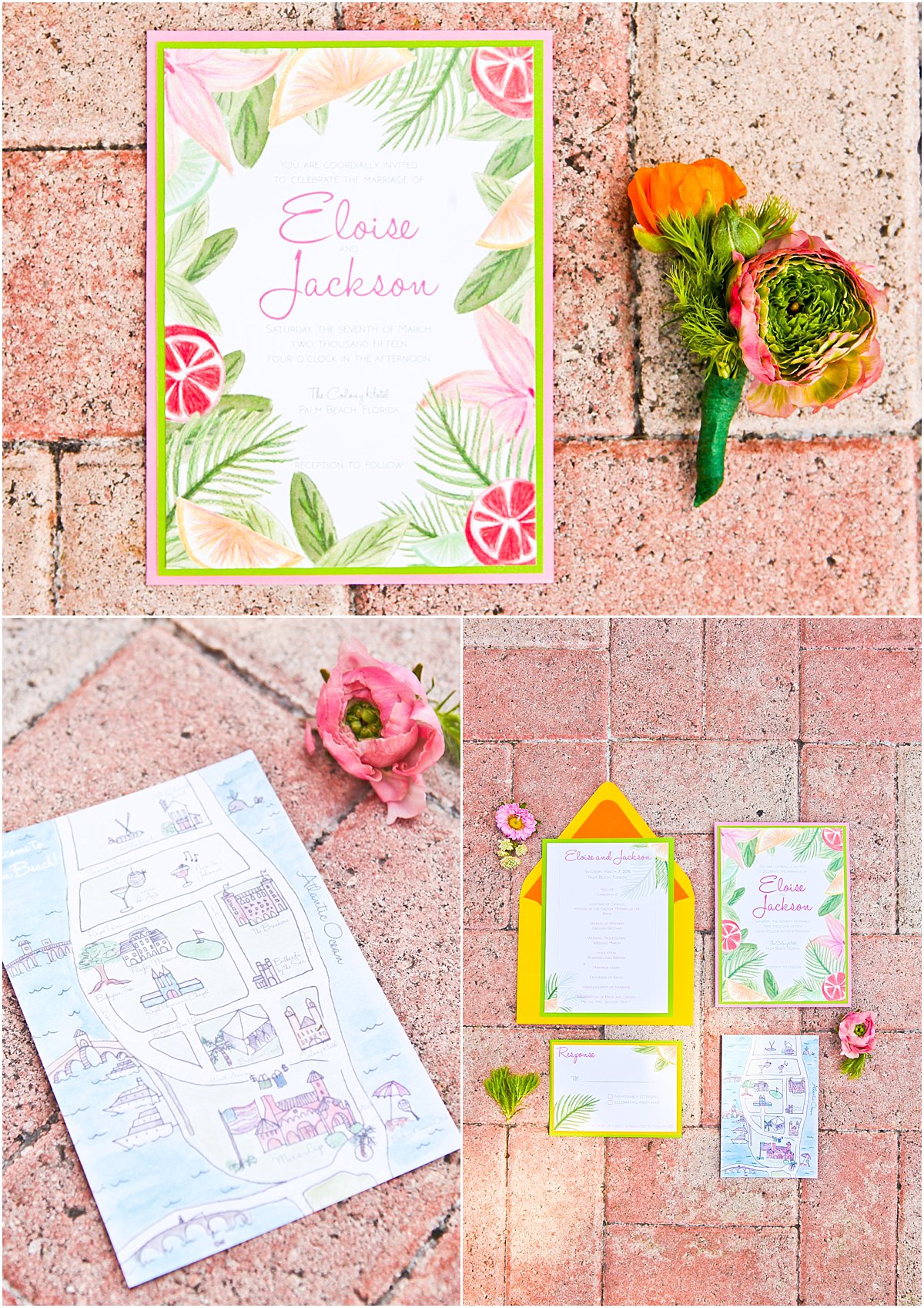 Set the stage for a Lilly-inspired event with a bright and fun wedding invitation. This suite by Chirp Paperie includes a hand-drawn map of Palm Beach Island and orange slices in the design.
3. Unique Lounge Areas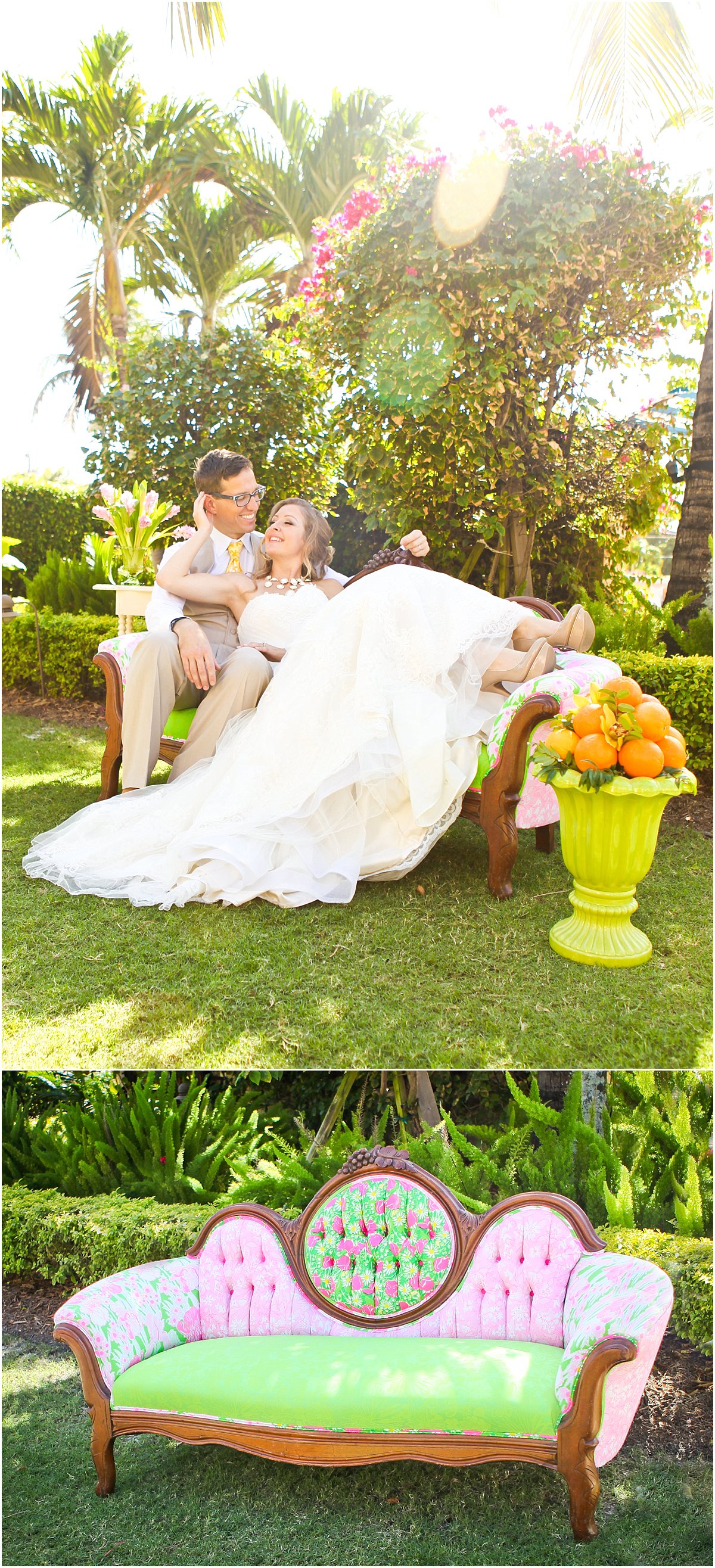 Lounge areas are always a hit among guests who need a quick break from the dance floor. Give your lounge area some Lilly love with this gorgeous couch from Orange Blossoms Floral and Event Design that's upholstered in vintage Lilly Pulitzer fabric. It's definitely a showstopper!
4. Embrace the Bright Colors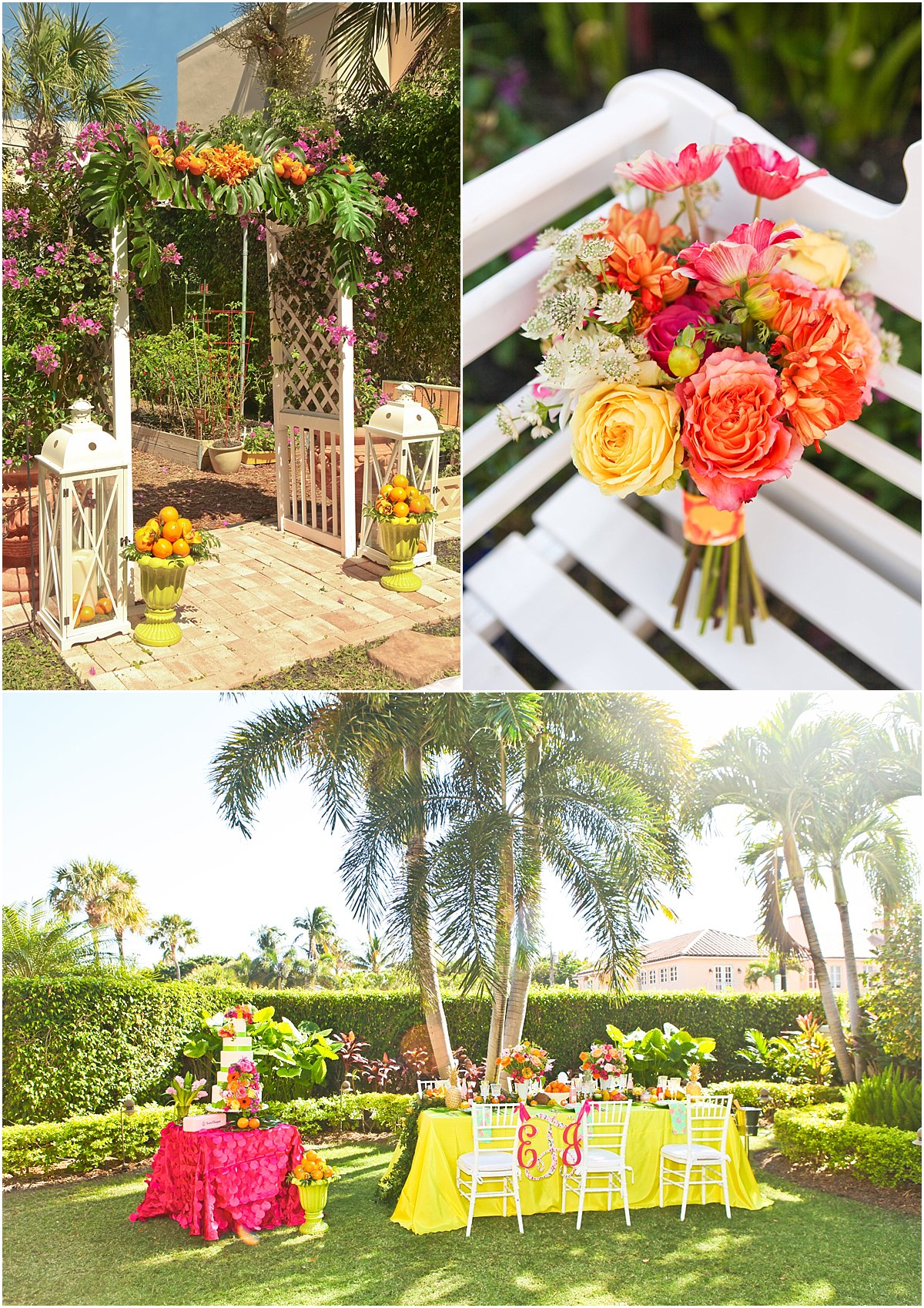 You can't go wrong with a bright color palette when creating your Lilly-inspired wedding. Orange Blossoms Floral and Event Design totally nailed it with this pink and orange decor.
As the saying goes, "anything is possible with sunshine and a little bit of pink."
5. Have a Juice Stand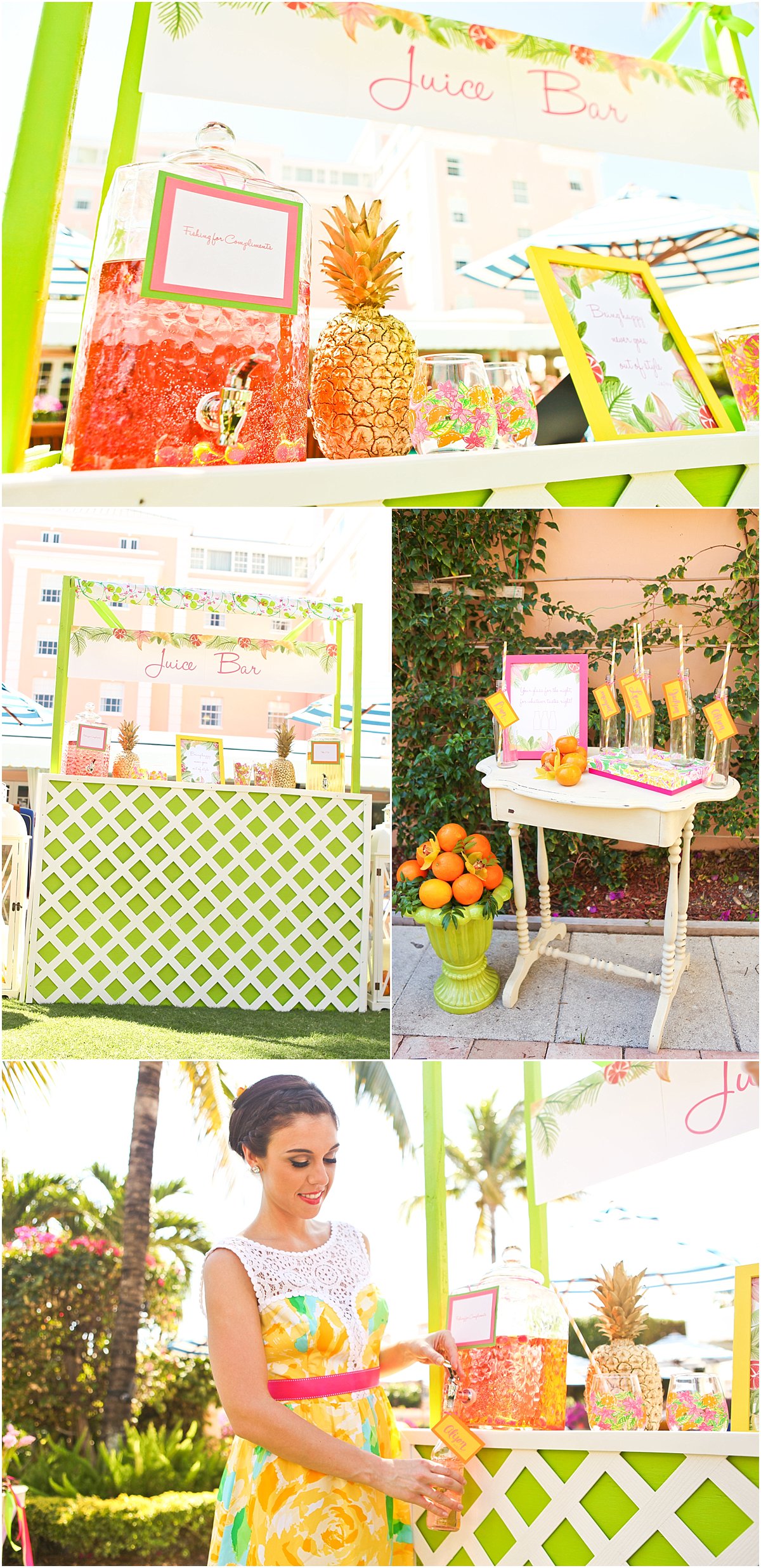 In an ode to what started it all, have a self-serve juice stand during your cocktail hour. Fill drink dispensers with yummy fruit punch and lemonade for your guests to enjoy.
Mix in some champagne for bubbly fun. Use a stand like this one by Orange Blossoms Floral and Event Design to complete the look.
6. Oranges…Oranges Everywhere!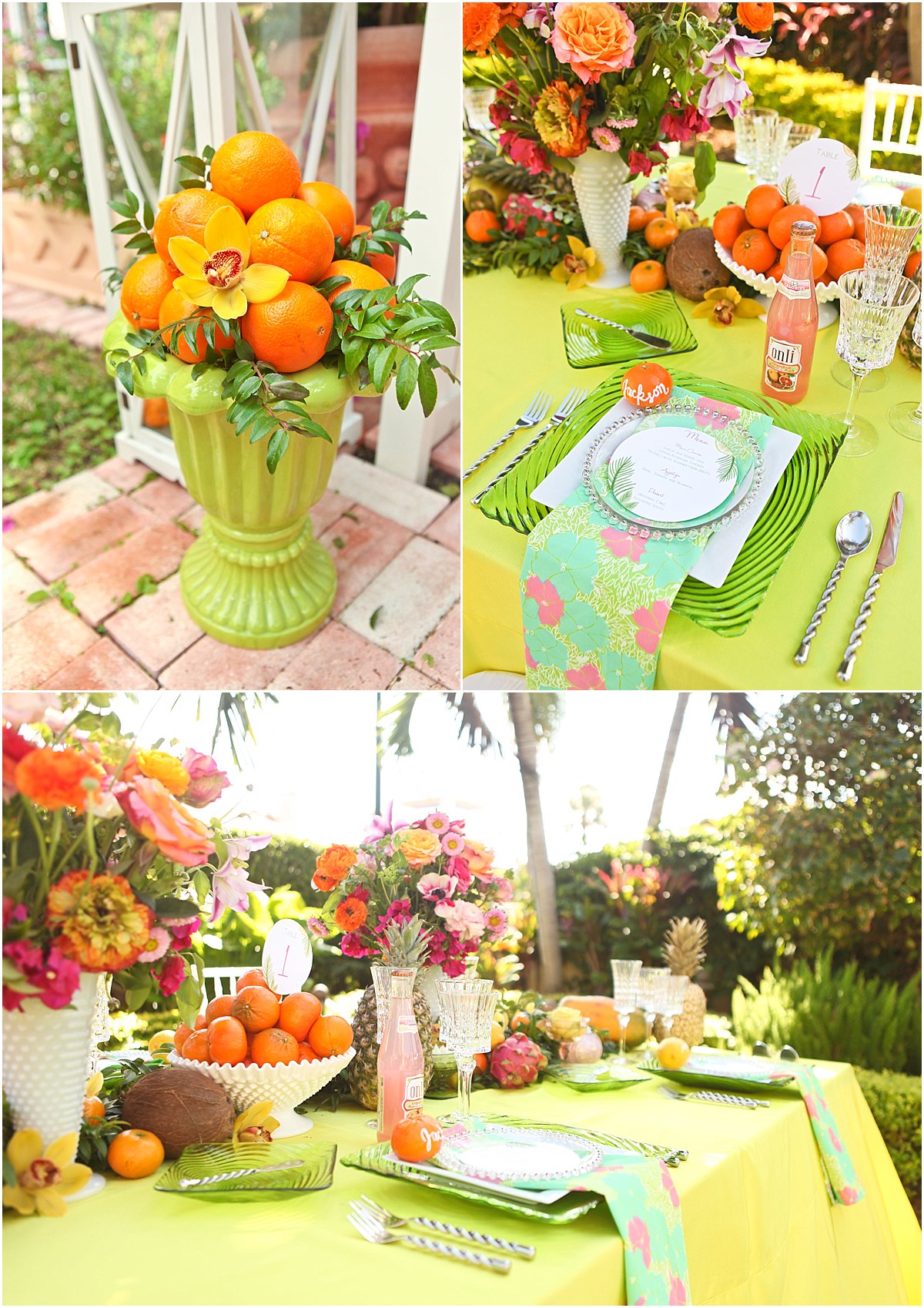 Want to be more subtle in your love of Lilly? Consider using oranges or other citrus in your décor! Those who don't know the history, will just think you either love the color or the fruit itself. We won't tell 😉
7. Awesome Monogram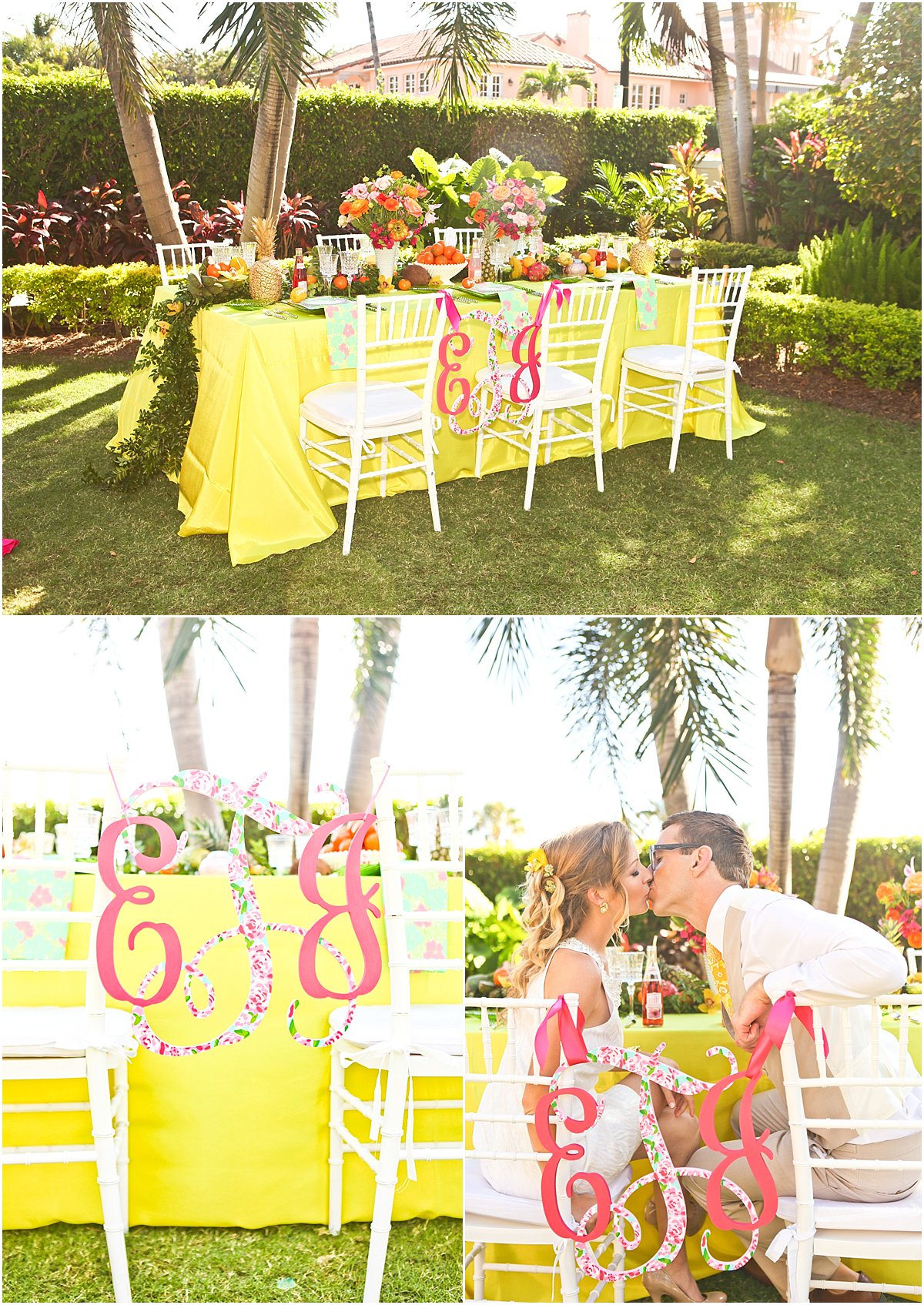 Monograms are always a wonderful way to celebrate your marriage. Get an awesome Lilly-inspired monogram to hang on your chairs at the reception. Then hang that beauty in your home for years to come.
8. Stunning Accessories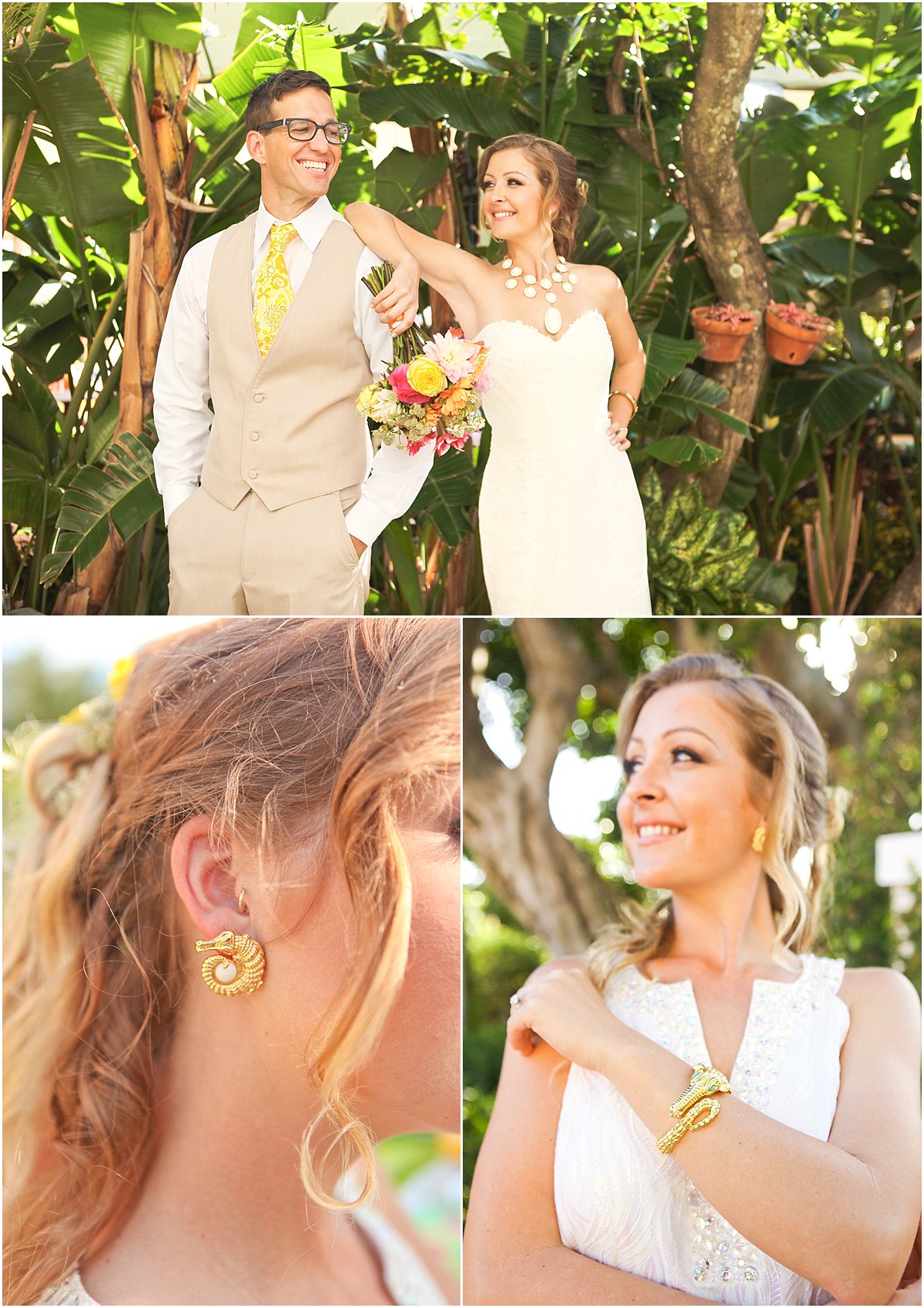 Lilly Pulitzer has some great jewelry! Rock a statement necklace or pretty bracelet with your wedding gown.
Don't forget the men of the group either. Though you can't currently buy Lilly for men, there's tons of great vintage Lilly ties on resale sites and at second hand shops.
9. Delicious Guest Favors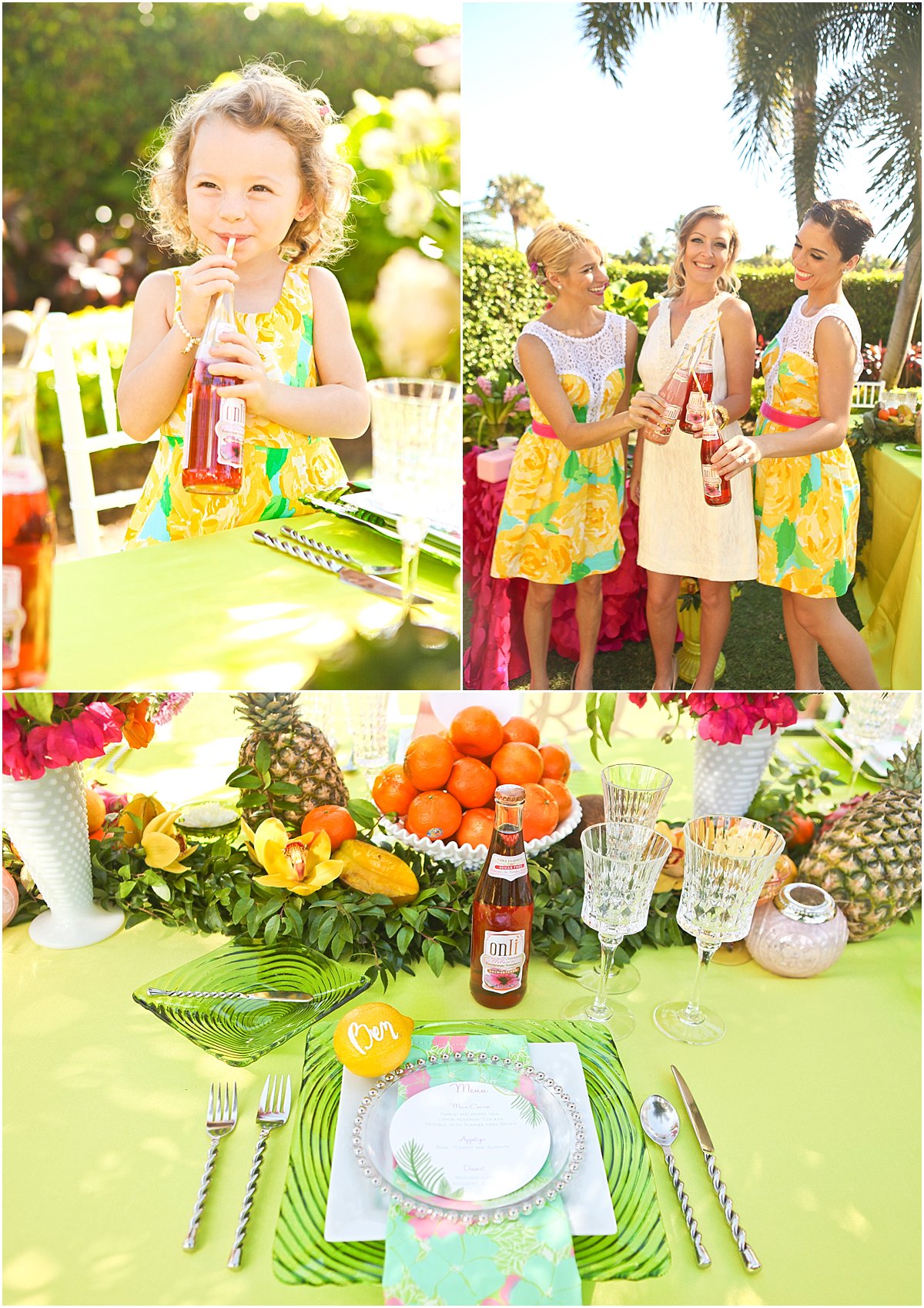 Another subtle ode to Lilly is to give juice as your guest favor. It's refreshing, unexpected, and a great homage to how the iconic brand got its start. We love Onli Beverages for its bright colors and yummy flavors.
10. Fun Signs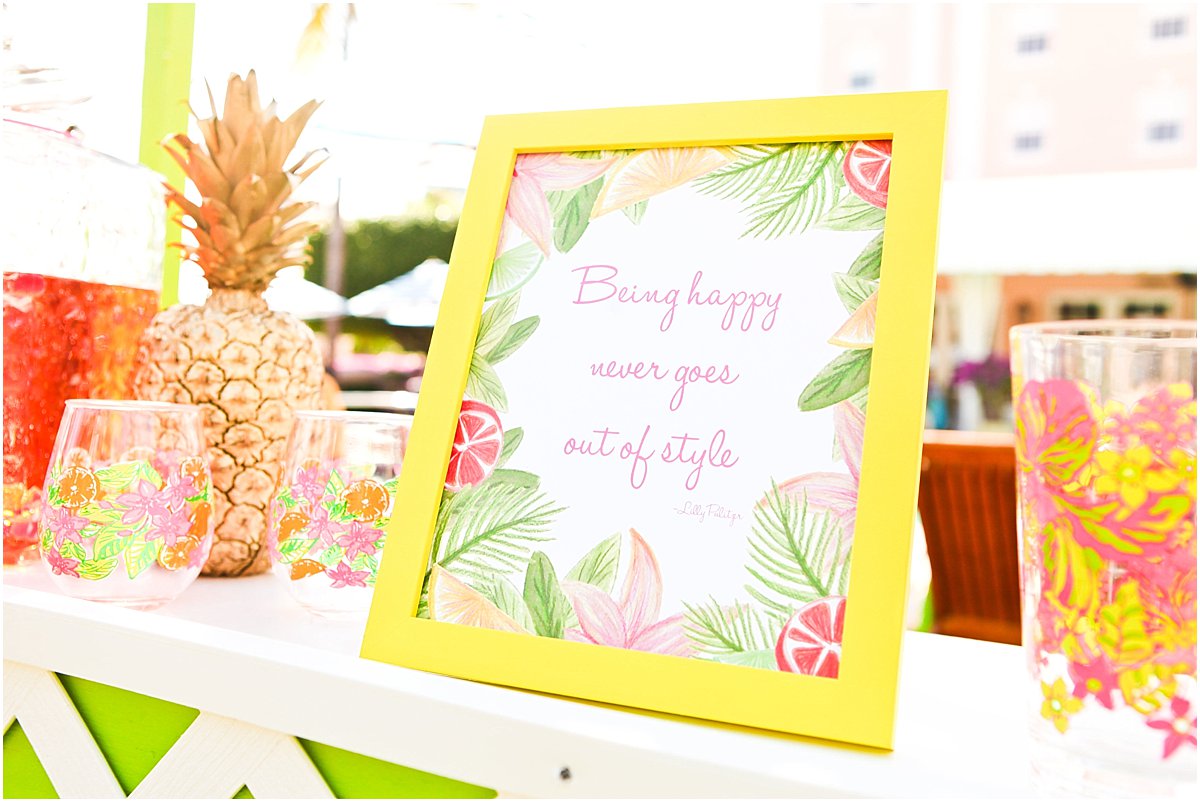 Lilly Pulitzer has some well-known, iconic sayings. Have your invitation designer create some festive signs that coordinate with your printed design to display around the cocktail hour and reception like this one by Chirp Paperie.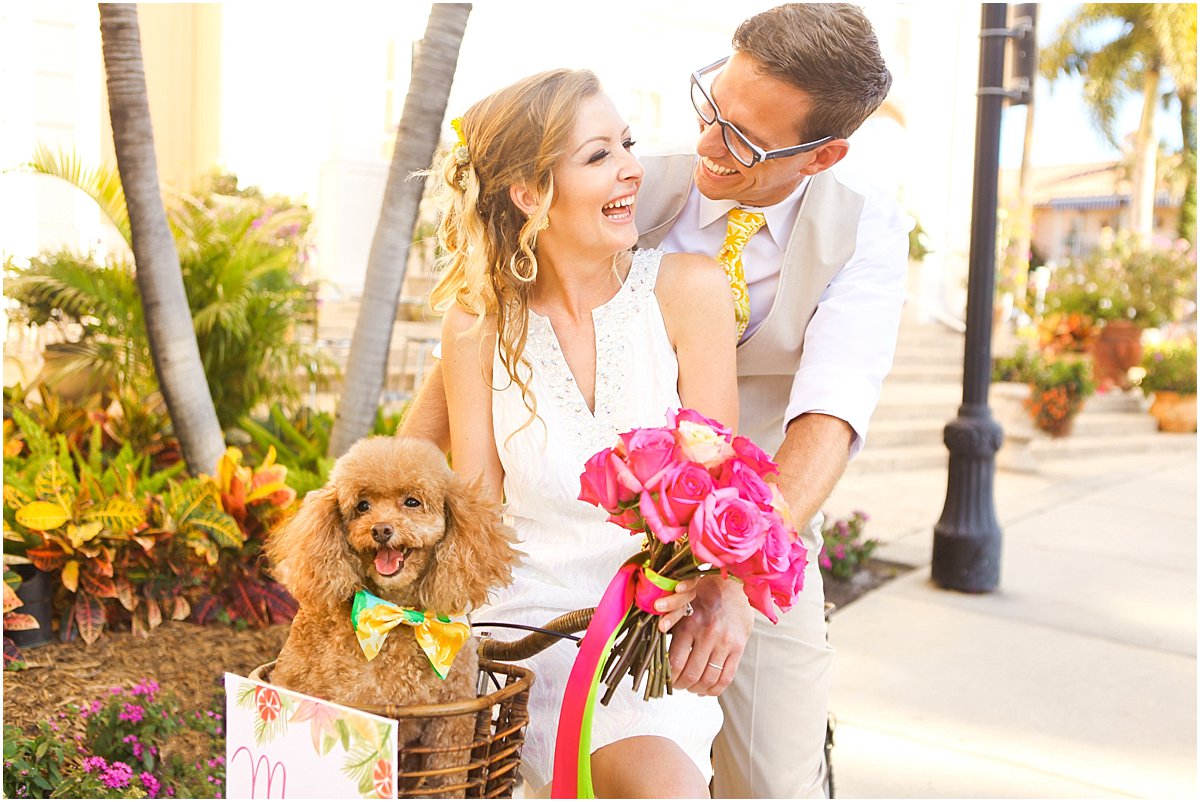 Any one of these ideas will thrill your Palm Beach wedding guests and pay tribute to an iconic, Palm Beach brand. Let us know how you incorporated Lilly Pulitzer into your wedding in the comments below!
---
Related Articles