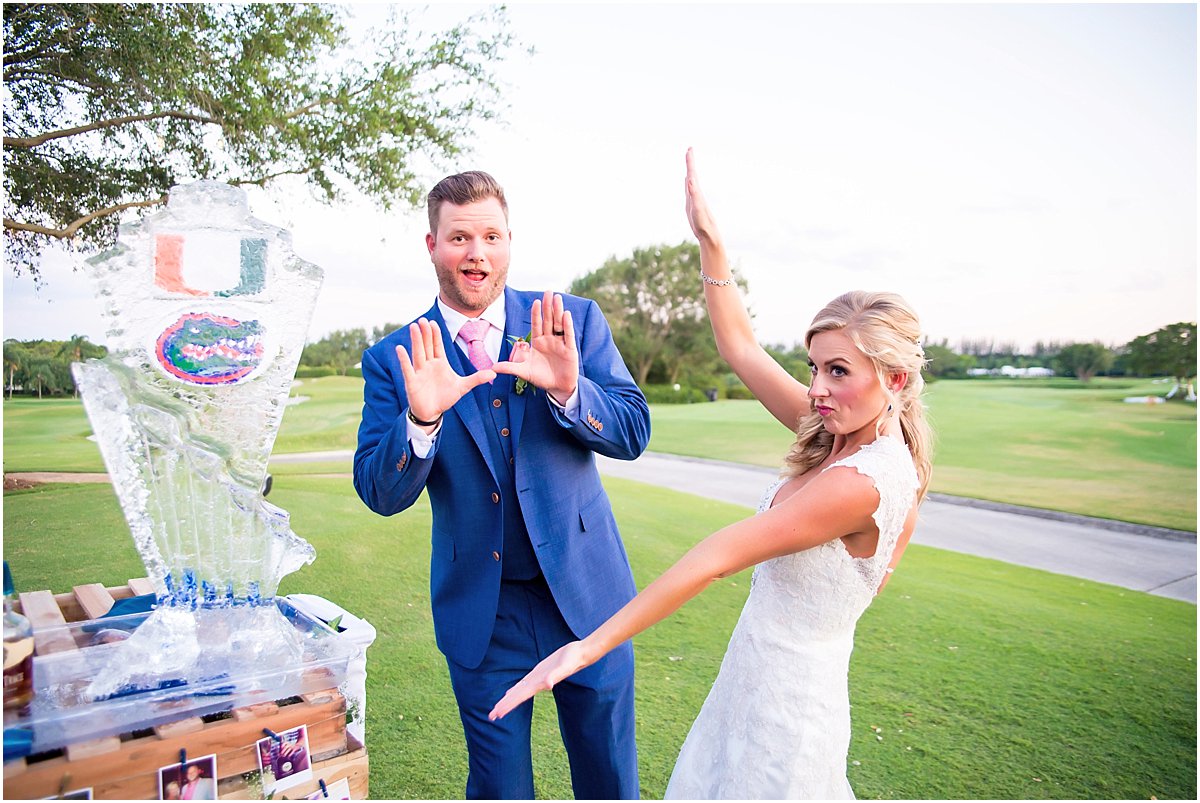 The 2017 college football season is upon us and with that comes tailgating, painting your face, and screaming at the TV…or is that just us? Whether you are still in college or a proud alumnus, it's the best time of the year if you are a fan!
We have it made in Palm Beach County when it comes to college football. You can catch a game locally at Florida Atlantic University or take a quick drive to watch the University of Miami.
There are also amazing watch parties for University of Florida and Florida State University alumni. Have you experienced the UF craziness at Key Lime House? It's epic!
For those that bleed their school colors, it's no surprise to see college related details in a wedding. However, many struggle with the "How much is too much?" conundrum.
You love your school and want to rep it, but also don't want your reception to dissolve into a sports bar atmosphere with your wedding party doing keg stands in the corner…or maybe you do. We won't judge! 😉
Well, never fear, because Married in Palm Beach has compiled a list of awesome ways to pull in your school pride without your future mother-in-law giving you the "look." Go team!
1. Team Apparel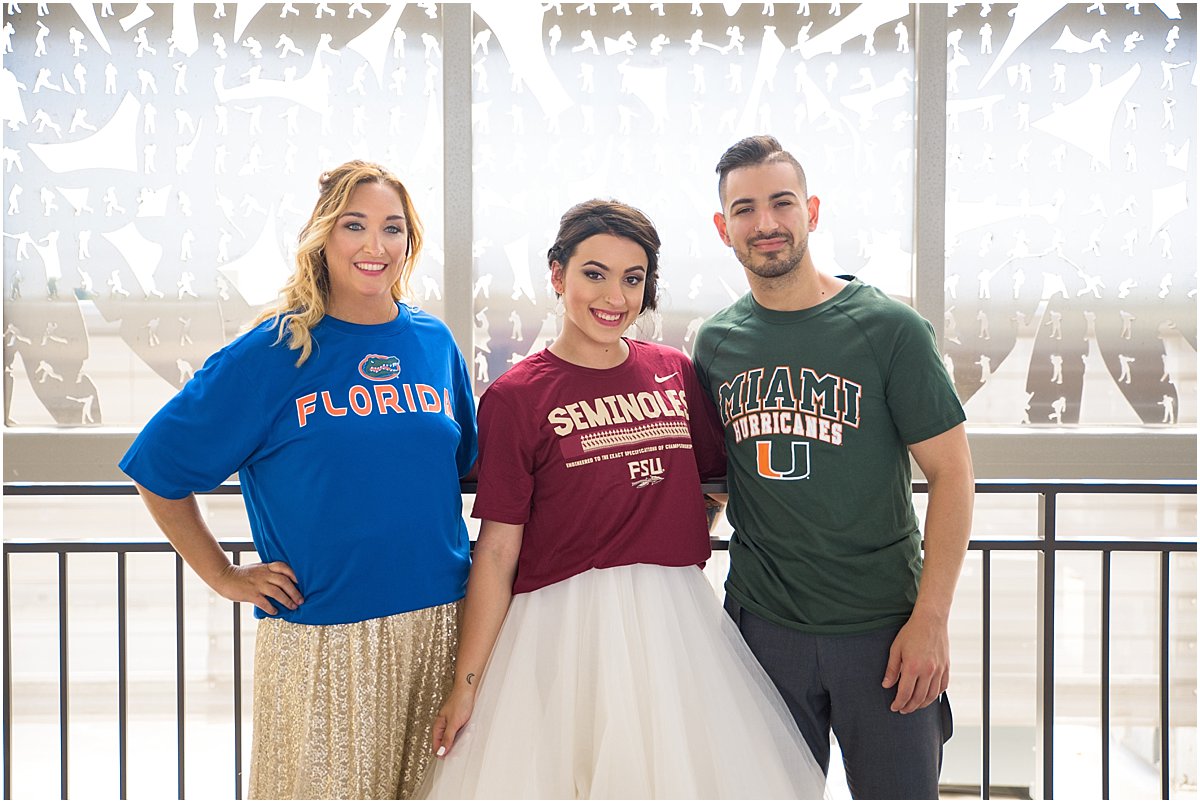 Whether you use them for photo ops or as a quick change into something more comfortable, jerseys and shirts are an obvious way to show off school pride.
Don't like the idea of your reception looking like the campus bookstore? Restrict these items to a photo booth setting or digital guest book pics.
2. Campus Photos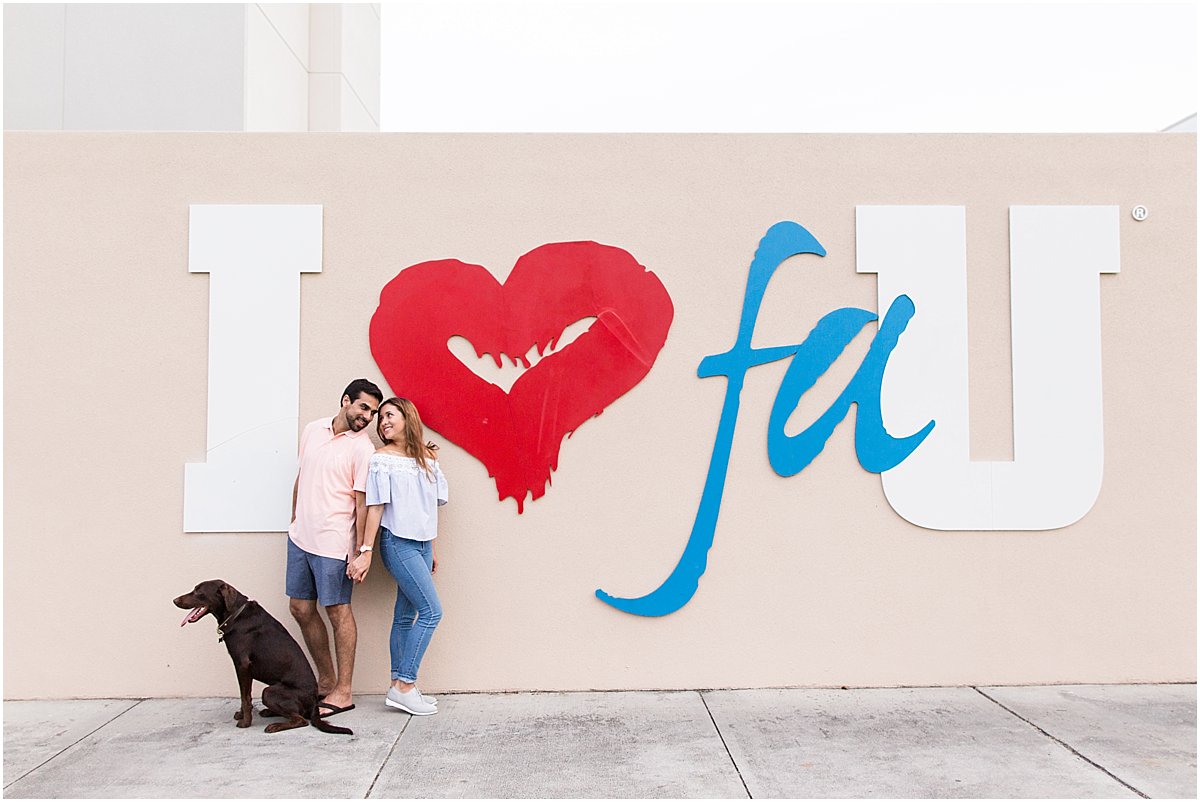 Most campuses are built to be functional AND aesthetically pleasing. Gorgeous architecture, open spaces, and iconic spots make for a photographer's dream. Show your school pride by taking your engagement photos around campus.
You could even take it one step farther and host your wedding on campus. Schools like Florida Atlantic University and University of Miami actually have great event spaces!
3. Garter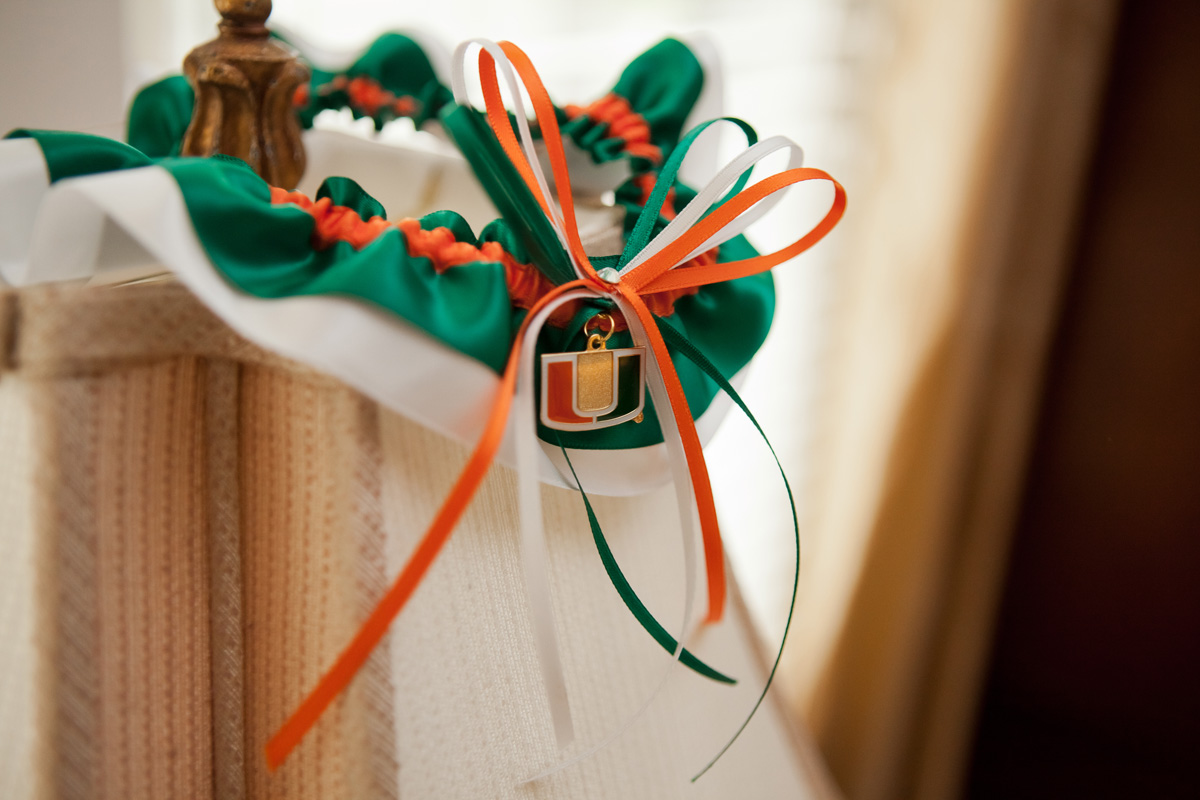 Want a more discreet way of showing your college pride? If so, a garter in your school colors is the way to go.
This is also a nice surprise for your groom, particularly if the two of you didn't go to the same school. We can pretty much guarantee he'll be rather pleased to see his school colors…on you. 😉
4. Shoes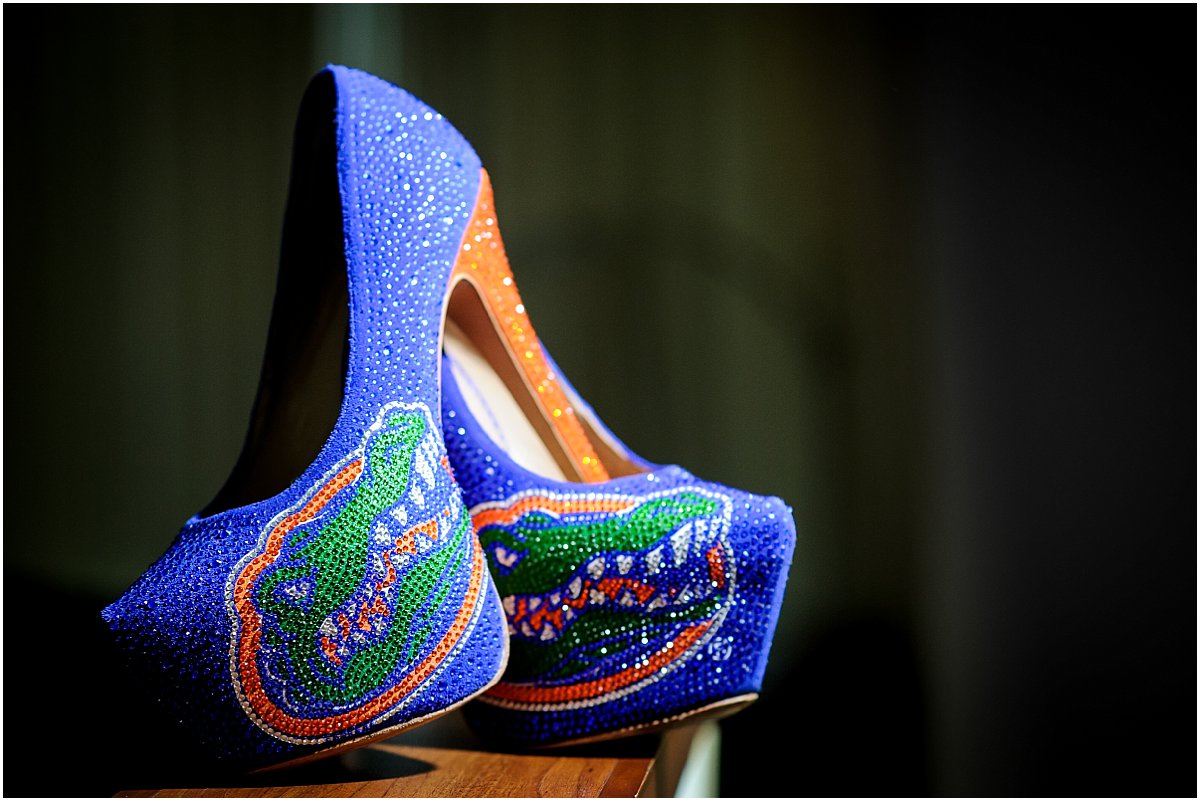 These shoes are to die for!! Who wouldn't want to rock shoes that are this fun and show off their school pride? Bonus – if one of your school colors is blue, it's the perfect "something blue"!
5. Guys Accessories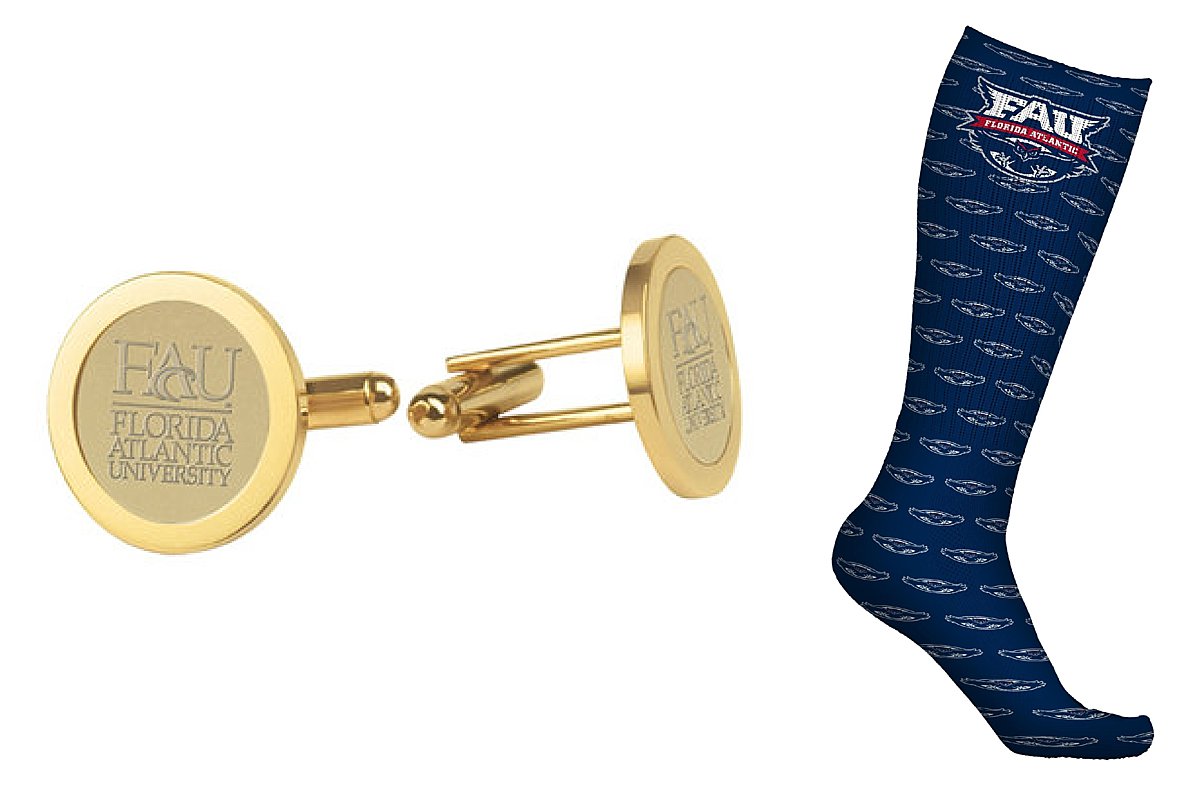 Let's be honest here, the bride and her look tend to get all the attention. While we agree it's her day to rock that awesome dress, we think the guys should get a chance to show some personality, too.
A fun way to do that is through his accessories. College cufflinks and socks are a great start and are items that can be worn long after the wedding is over.
6. Grand Entrance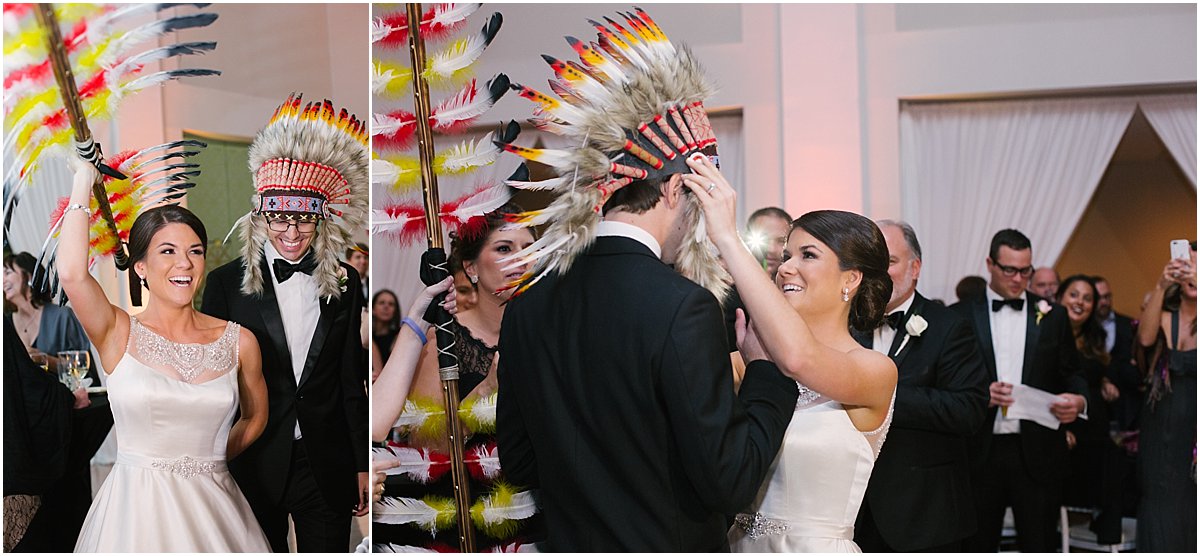 One of the key moments of the wedding day is your entrance into the reception, so why not make it memorable. Join the party like your fav college football team.
If you are a Canes fan, run through smoke or if you are a Seminole fan, don Chief Osceola's headdress and spear. Whatever your school's tradition, you're guaranteed to get the crowd pumped.
7. Mascot at the Wedding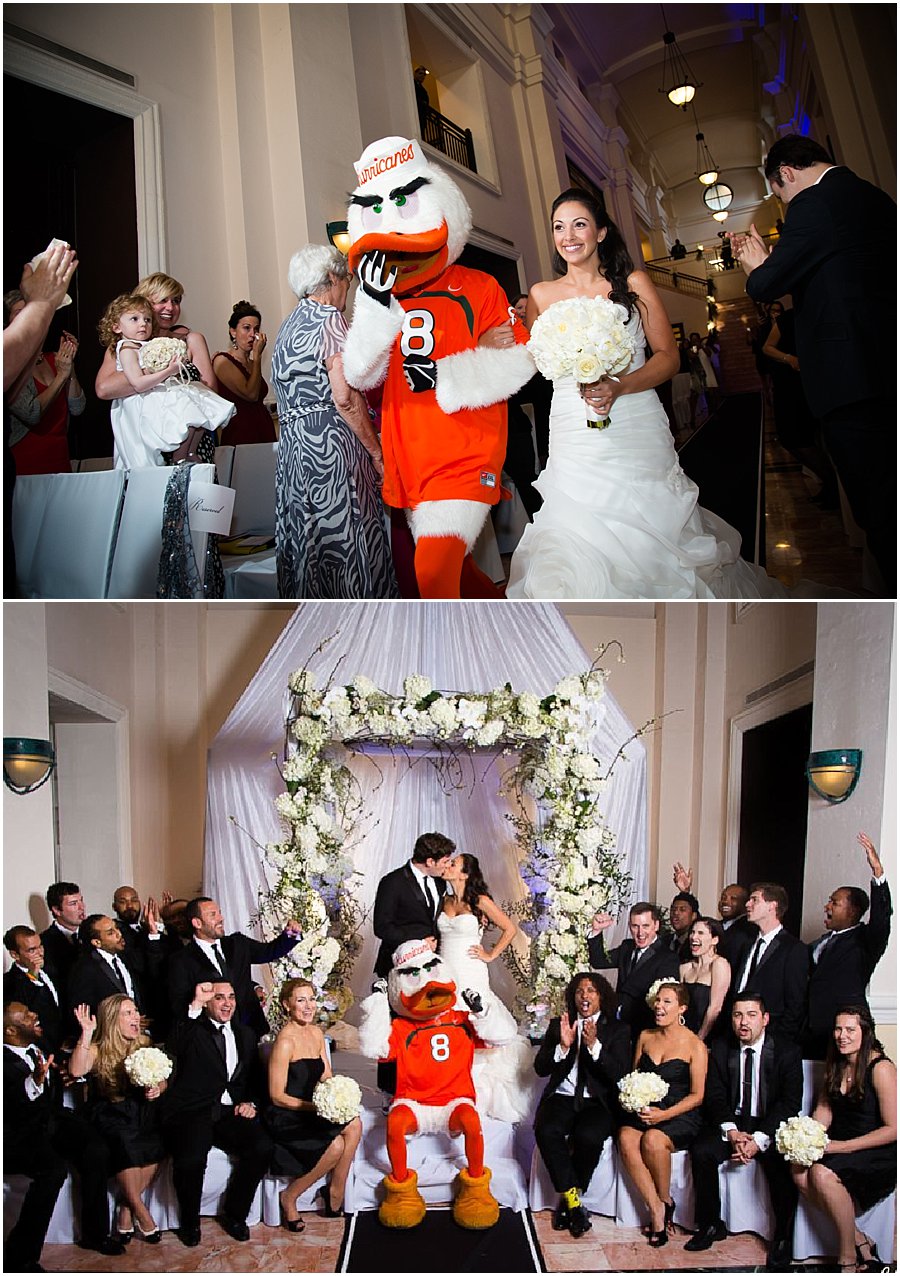 You've toiled over your guest list for weeks, but you're forgetting the VIM (Very Important Mascot)! Inviting your school mascot is a sure way to land some great photos or rev up the reception when it's time to get the party started.
8. Ice Luge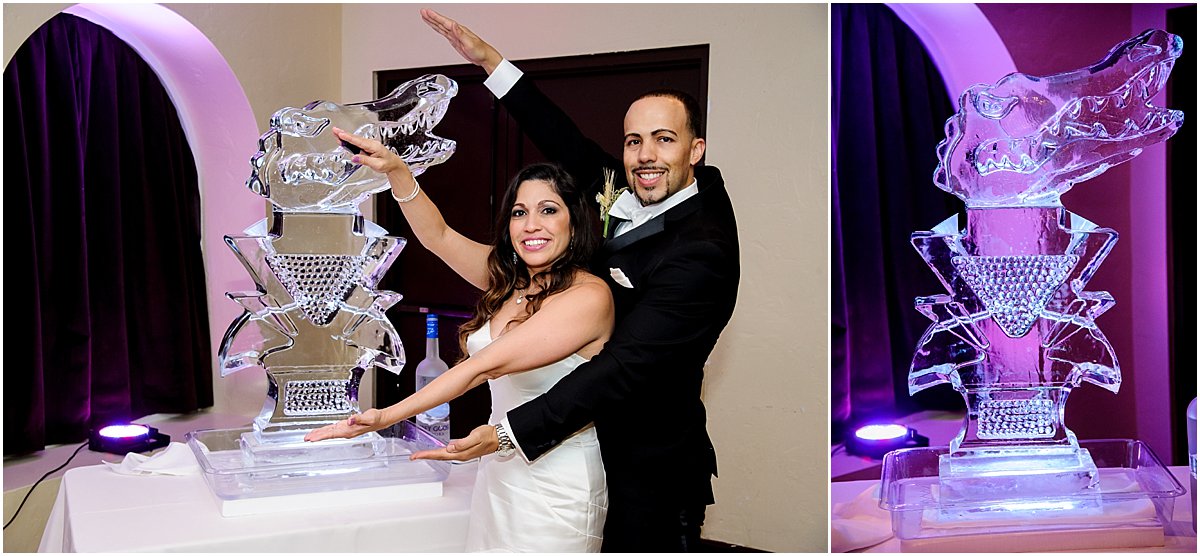 Cocktails need to be chilled, right? You might as well make the ice pretty! Swan ice sculptures are so 1993 so jump on board the school pride train and get a masterpiece worth showing off.
9. Grand Exit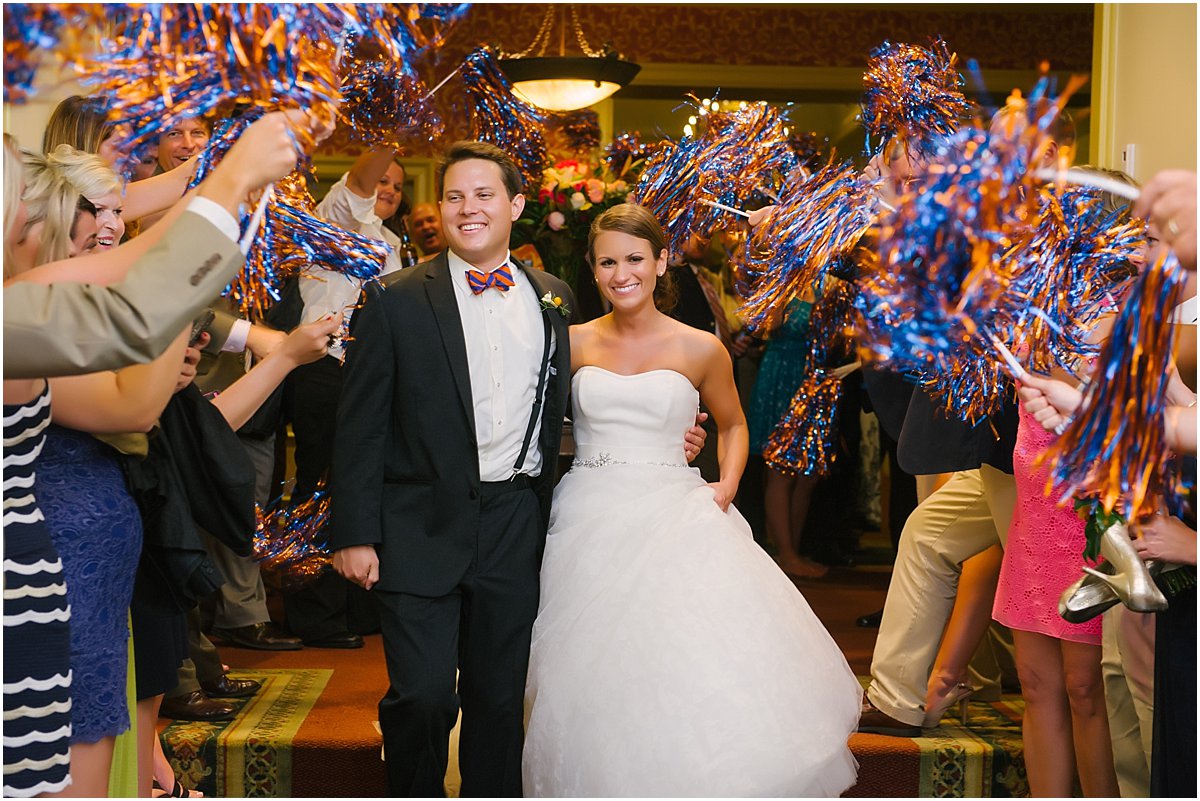 Grand exits are a great way to end the night. Buck the sparkler tradition and hand out ribbon wands or pom-poms in your school colors for some amazing photos!
10. Wedding Color Scheme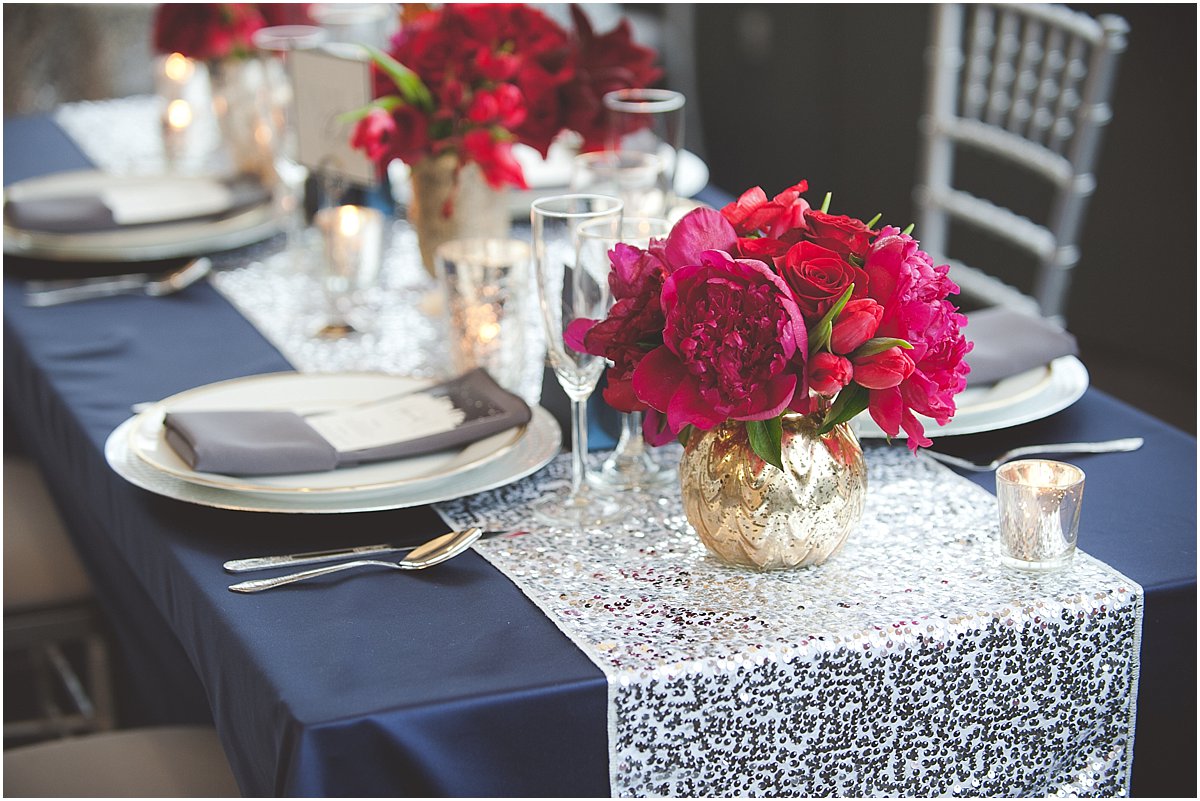 You can totally rep your school without splashing logos and mascots around. Building a color scheme around your school colors is a classy, understated way to show school pride.
11. Alumni Photo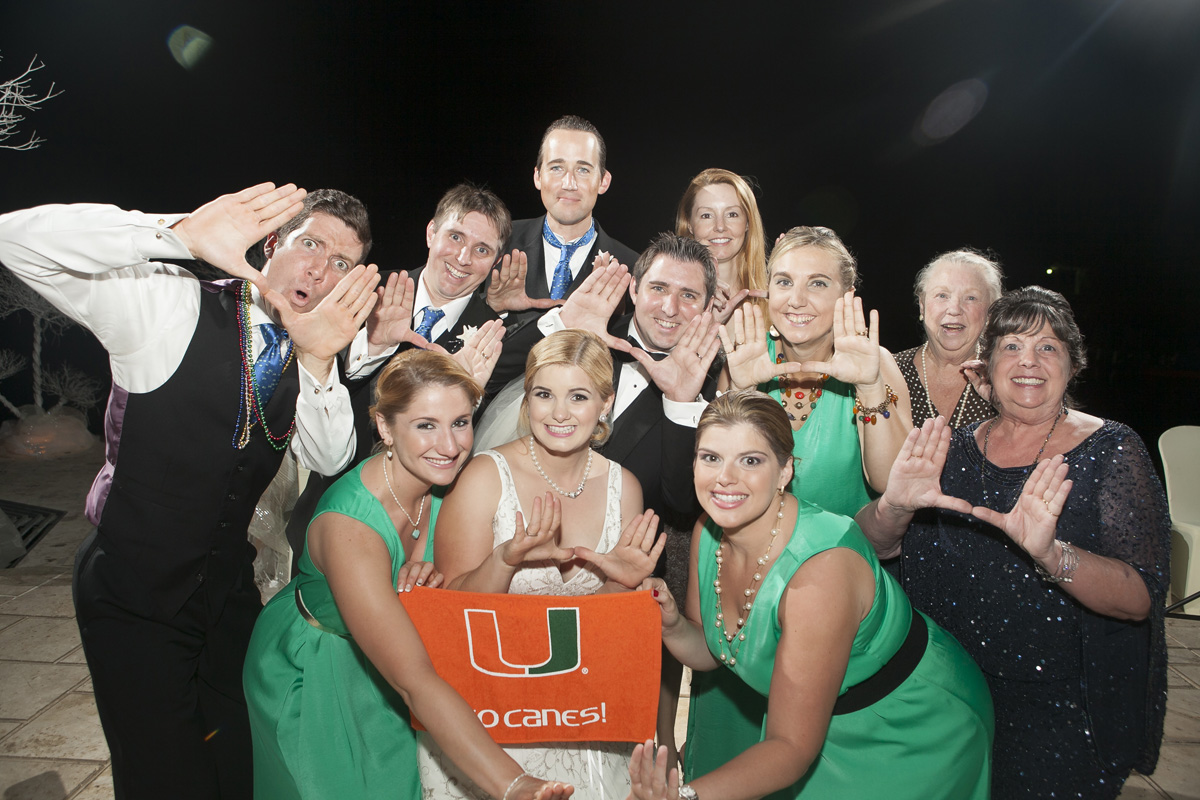 Odds are, if you are super proud of your school, there are probably guests at your wedding who are, too. Don't forget to take an all-generations alumni photo on your big day. Just think how epic this will be if you invite your school mascot!
12. Cake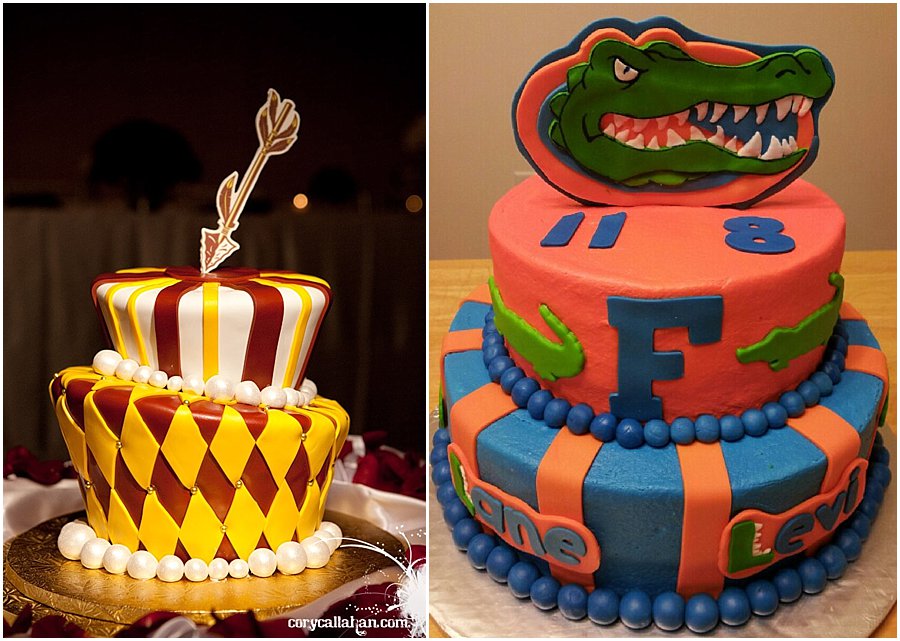 Cakes are one of the most photographed details of a wedding, so why not have fun with it. Rock a fun college themed cake topper or order a grooms cake to show your school pride. Your guests will definitely share these cake photos!
So whether you are looking for University of Miami wedding ideas, University of Florida wedding ideas, Florida State University wedding ideas, or even Florida Atlantic University wedding ideas, we've got you covered on ways to show your school pride. Happy planning!
---
Related Articles